Epic Fam Jam: Here's 5 reasons why you need to attend India's biggest fan festival
Here are 5 reasons why you should attend India's Biggest Fan festival ever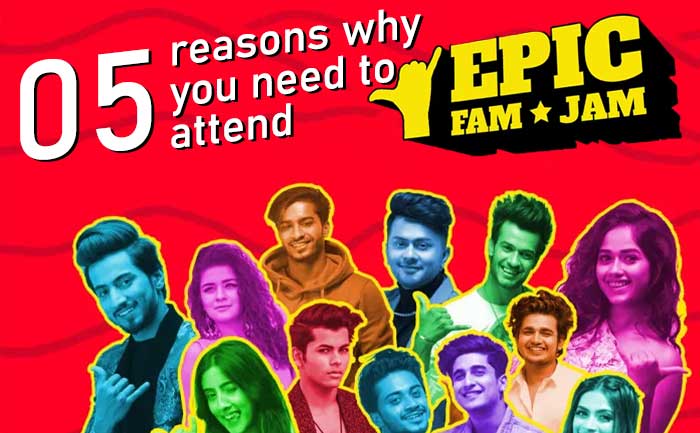 Epic Fam Jam is all set to bring together all the popular stars of TikTok as well as Instagram in like the real world especially for their fans to meet, engage and to see them perform live. In fact, it is first time ever that an event like this is done for these new age sensations with many of the ones who have higher engagement than even the huge Bollywood stars.
Here's 5 reasons why you need to attend India's biggest fan festival:
1. Meet & collaborate with Biggest Internet Stars
While you might be getting excited, at Epic Fam Jam, you might as well book a ticket to meet and collaborate with popular influencers with the likes of Team 07's Mr Faisu, Jannat Zubair, Awez-Nagma, Siddharth-Avneet, Vishal Pandey as well as Bhavin Bhanushali.
2. The Live Concert to feature Performances by 50 viral artists
This is one opportunity that you shouldn't even think of missing as at Epic Fam Jam live performances will be featured by rock stars and digital stars with the likes of Gajendra Verma, Shraddha Sharma, Emmy Award-nominated dance group Kings United. In fact, the show will offer about three hours of entertainment to fans.
3. Have a look at the Installations by Instagram and also be on cover of Rolling Stone India
Fans at Epic Fam Jam can indulge themselves in superb installations as well as engagement zones by Instagram. When you upload and share interesting content, with the #BornOnInstagram, you can win free tickets to superstar meet-and-greets and even the passes to Epic After Party. Also, if you dreamt of being on cover of a magazine, then you can make this dream come true at the installation by Rolling Stone India.
4. Get this mind-blowing chance to become next sensation on Instagram and TikTok
Epic Fam Jam which is held at JioWorld Garden in Mumbai, gives the opportunity to budding influencers the right space and vibe to create viral content whether its trendy videos or quirky collabs and if you are a content creator this is the right destination for you to be.
5. Hang out with the Internet superstars at Epic After Party
Interestingly, Epic After Party is one such exclusive bash of Epic Fam Jam where the India's huge digital superstars get the chance to chill out with their super fan. Furthermore, this is the first time when fans will actually have the chance to get close and personal with favourite Instagram and TikTok stars too.
Epic Fam Jam
When and Where: 19 Jan, 2020 at Jio World Gardens, Mumbai
Also Read: Epic Fam Jam 2020 – Ticket Price, Venue, Date & Celebrities To Perform