Raksha Bandhan 2019: Make your Rakhi festival special with these recipes
On the festive occasion of Raksha Bandhan here are 7 recipes to tantalize your taste buds.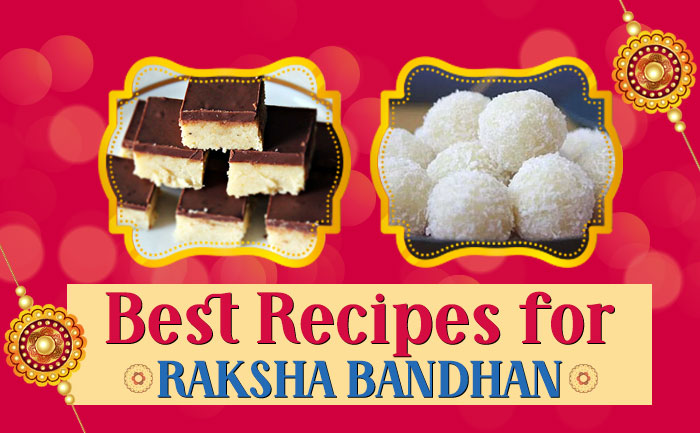 One of the most awaited festivals in India is Raksha Bandhan for it celebrates the bond of a brother and sister. The day falls on August 15 this year. Raksha Bandhan is celebrated on the full-moon day in the Hindu month of Shravan, which corresponds with the English months of July or August, at the peak of monsoons. Though the festival is of Hindu origin, non-Hindus also celebrate it with fervour.
Raksha Bandhan begins with an early bath. After worshipping the Gods and Goddesses, the sister applies a dot (tilak) of vermilion (kum-kum) with a few rice grains on her brother's forehead and gently showers rice grains on him. She then ties the Rakhi onto her brother's right wrist and offers him a piece of sweetmeat. The sacred thread is symbolic of the brother's vow to protect the honour of sisters and the tilak symbolises soul consciousness. If the brother is older of the two, she touches his feet to seek his blessings or vice versa. The brother then offers her some gifts.
Indian festivals are also known for their decadent sweets and mouthwatering snacks to tantalise your taste buds. As the festive occasion brings families together. The day is filled with merrymaking and gorging on sumptuous treats. What is a festive occasion if there are no treats to tantalise your taste buds?
Raksha Bandhan 2019: Here are some special recipes for Rakhi
1. Coconut Laddoo: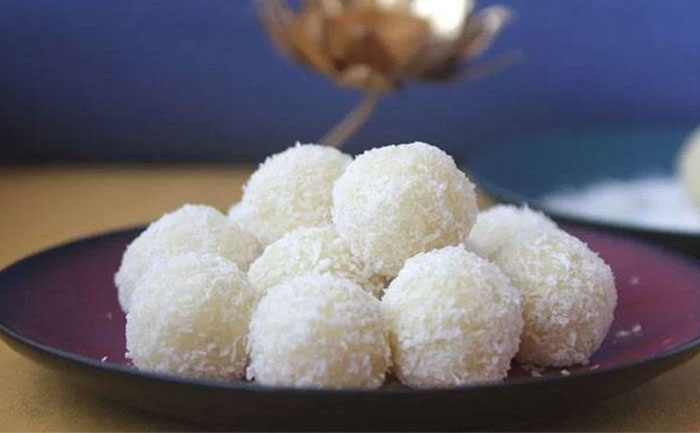 1.5 cup desiccated coconut
1 teaspoon desi ghee
1/2 teaspoon cardamom powder
1/2 tin condensed milk
a little desiccated coconut to roll the ladoos in.
some dry fruits chopped(optional)
Method:
Take all the ingredients in a pan and heat the mixture on low flame. Keep stirring until the mixture thickens and starts leaving the sides. Stir till you see the coconut fat at the side of the mixture. Remove from flame pour it in a plate and cool it. After cooling makes small balls and rolls them in desiccated coconut. Your coconut ladoo is ready to gorge on. It is one of the most popular recipes for Raksha Bandhan.
2. Dry Fruit Pulao: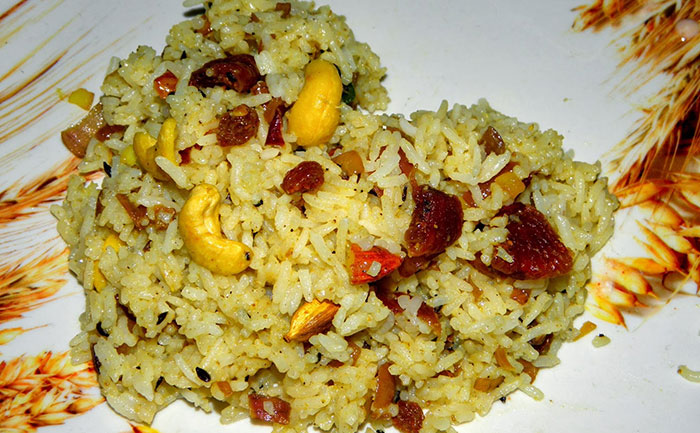 Basmati rice soaked 1 1/2 cups
Almonds 10-15
Cashewnuts 10-12
Raisins 1 tablespoon
Pure ghee 2 tablespoons
Bay leaves 1-2
Black peppercorns 6-8
Salt to taste
Saffron (Kesar) a pinch
Method:
Heat water in a deep non-stick pan. Heat ghee in another deep non-stick pan. Add bay leaves, peppercorns, almonds, cashew nuts and raisins to the ghee and stir. Add rice and sauté for 1-2 minutes. Add salt and saffron and sauté for ½ minute. Add 3 cups hot water. When the mixture comes to a boil, again, cover and cook till the rice is done. (Sanjeev Kapoor Recipe)
3. Handi Paneer: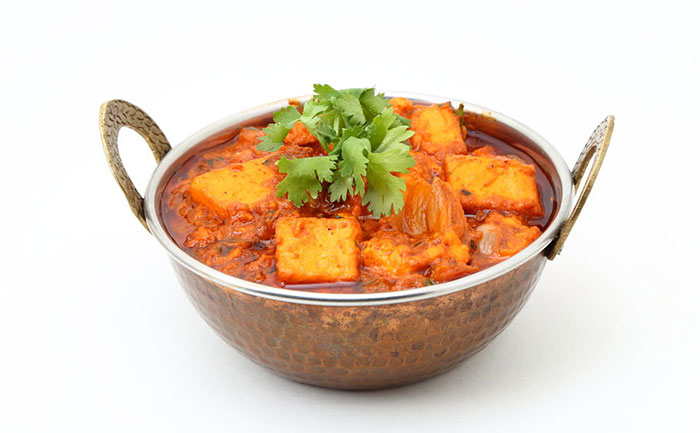 Ingredients Of Handi Paneer
200 gms paneer
2 ginger, grated
1/2 tsp turmeric powder
1/2 tsp chilli powder
1/2 tsp garam masala powder
1 tomato
1/2 cup water
2 stalks coriander leaves
2 pinches powdered black pepper
4 tbsp refined oil
3 onion, chopped
1/2 cup beaten curd
Method:
Take a handi and stir fry the chopped onions. add grated ginger, turmeric powder, chilli powder, garam masala. When the mixture blends well add some chopped tomatoes, green chilli and cook on a low flame for ten minutes. Add half a cup of beaten curd and cook. Add salt as per taste and half a cup of water boil the mixture and then add the pieces of malai paneer and cook till the water evaporates and the gravy is thick. Serve in a bowl garnished with coriander and hot phulkas. You should add this recipe on Raksha Bandhan 2019.
4. Chocolate Barfi: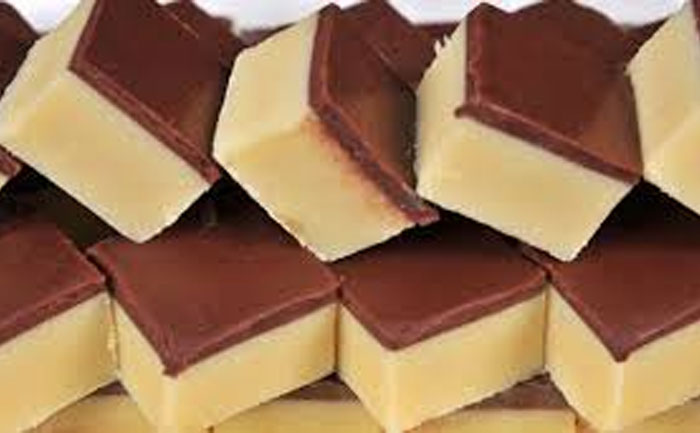 2 cups Khoya (Mawa)
⅓ cup Sugar
¼ cup Milk
2 tablespoons unsweetened cocoa powder
2 tablespoons Almonds chopped, for garnishing
Method:
Take a non-stick pan, heat mawa in it on slow flame till it loses its crumble state and melts. Add sugar and milk to it continue cooking on slow flame till sugar dissolves and the mixture thickens. Continue stirring till it leaves the sides of the pan.
Take half the mixture and spread it evenly in a greased cake tin. Take the other half to add cocoa powder to it and spread it over the first layer evenly. Spread some chopped nuts on it and cut into square pieces. Viola your double-layered barfi is ready. You should make this sweet on this Raksha Bandhan.
5. Atta Laddoo: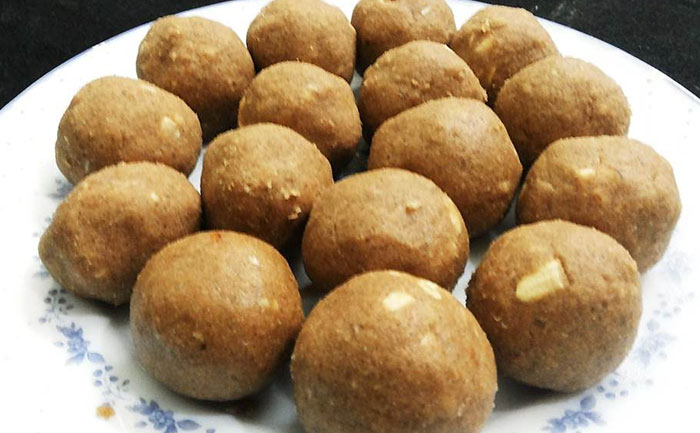 1.5 kg Atta
1 kg Sugar Burra
1 kg Desi Ghee
Chopped nuts
Method:
Take a big pan to add the ghee and atta to it, roast them on slow flame till the atta is roasted and thickens. Keep stirring till it leaves the sides of the pan and ghee can be seen at the edges. Remove from flame cool it. After it cools down add the Sugar Burra and chopped nuts and make small balls. Your Atta Laddo is ready.
6. Lauki Ki Barfi: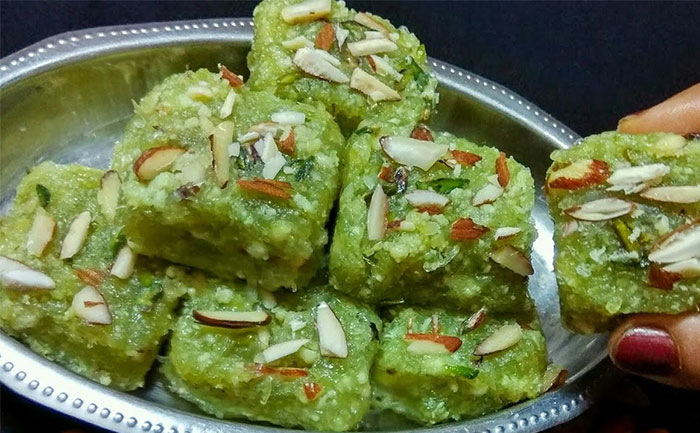 1-litre full cream milk
2 cups peeled and grated Lauki bottle gourd without seeds
1/2 cup Sugar
250 gms Khoya roasted
2 tbsp Ghee – 2 tbsp
2 tsp Cardamom powder – 2 tsp
Almond and pistachio slivers to garnish
A silver foil to garnish
Method:
Heat milk in a heavy bottom pan. Add grated lauki and cook till the mixture thickens. Add sugar cook till it dissolves. Add Khoya, ghee and cardamom powder and cook till the mixture thickens. Grease a plate and pour the mixture in it. After cooling cut it in small pieces and serve. Store in an airtight container for 2-3 days in the refrigerator. This is one of the best Raksha Bandhan recipes.
7. Vegetable Crispy: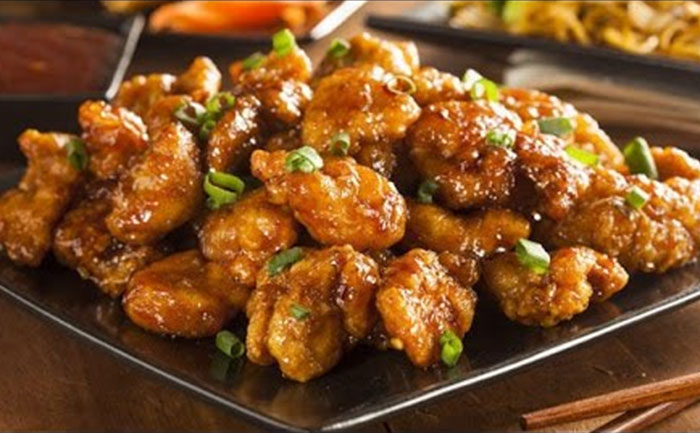 10 Babycorn cut into thick strips
1 large Green Capsicum cut into thick strips
5 to 6 Cauliflower florets
1/4 Cabbage cut into thick strips
Oil 2 tablespoons
FOR BATTER
 5 tablespoon Cornflour/ corn starch
5 tablespoon Refined flour (maida)
1/2 Ginger-garlic paste
MSG optional 1/4 teaspoon
1 teaspoon Lemon juice
Salt to taste
Black pepper powder to taste
FOR SAUCE
4 to 5 cloves Garlic chopped
1-inch piece Ginger chopped
2 to 3 stalks celery chopped
2 Spring onions chopped
2 Green chillies chopped
1 tablespoon Soy sauce
1 tablespoon Red chilli sauce
2 teaspoon Tomato ketchup
Salt to taste
Black pepper powder to taste
Method:
Mix cornflour, refined flour, ginger-garlic paste, MSG, lemon juice, salt and black pepper powder in a bowl with enough water to make a thick batter. Add the vegetables and mix so that all the vegetables are well coated. Heat enough oil in a wok and deep fry the vegetables. Drain on absorbent paper and set aside.
Heat two tablespoons of oil in a pan. Add garlic, ginger, celery, spring onions and green chillies and sauté for a minute. Add soy sauce, red chilli sauce, tomato ketchup, salt and black pepper powder and sauté for half a minute. Add all the fried vegetables and mix well. Serve hot. (Sanjeev Kapoor Recipe)
These are some Raksha Bandhan recipes, we hope you liked them. We wish you a very happy Rakshan Bandhan 2019!
Also Read: Raksha Bandhan 2019: Date, Time, Significance and Legends behind the festival