G20 Pledges $5 Trillion To Revive Global Economy To Combat Coronavirus
G20 nations to pump in US $5 trillion into global economy, PM Modi calls for stronger WHO to fight pandemics,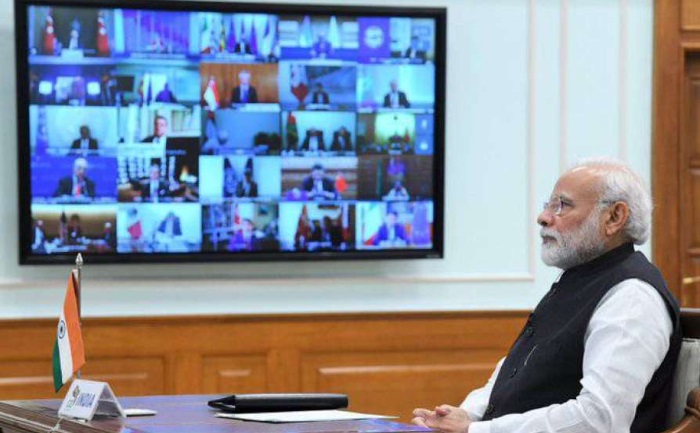 On March 26, 2020, an extraordinary virtual G20 leaders' summit took place to discuss global plans to tackle the public health and economic challenges posed by the coronavirus pandemic. The G20 group of nations has pledged a "united front" in the fight against the coronavirus pandemic. They are all set to pump in $5 trillion into the global economy to counter the impact of the COVID-19 crisis.
During the emergency video conference of the world's major economies, the leaders said they were committed to preserving financial stability and reviving growth.
The G20 leaders said, "the virus respects no borders. Combatting this pandemic calls for a transparent, robust, coordinated, large-scale and science-based global response in the spirit of solidarity. We are strongly committed to presenting a united front against this common threat. We are deeply saddened by the tragic loss of life and the suffering faced by people around the world. Tackling the pandemic and its intertwined health, social and economic impacts is our absolute priority. We express our gratitude and support to all frontline health workers as we continue to fight the pandemic."
Prime Minister Narendra Modi called for a stronger World Health Organisation(WHO). He said that international organizations like WHO, built on models of the previous century, need to be strengthened and reformed. They did not have the mandate to deal with the pandemic of this sort, which is why empowering of WHO is necessary, be it in terms of its capacity for early warning or development of effective vaccines.
G20 leaders also pledged to work with the International Monetary Fund to deploy a "robust" financial package to support developing nations.
Also Read: India Fights Corona: PM Modi announces nationwide lockdown from midnight