Game of Thrones New Promos Show Jon Snow Reunites With Arya Stark- Watch Video
HBO Has Dropped Two New Promos Of Game of Thrones Season 8 Showcases Jon Snow Reunites His Sister Arya Stark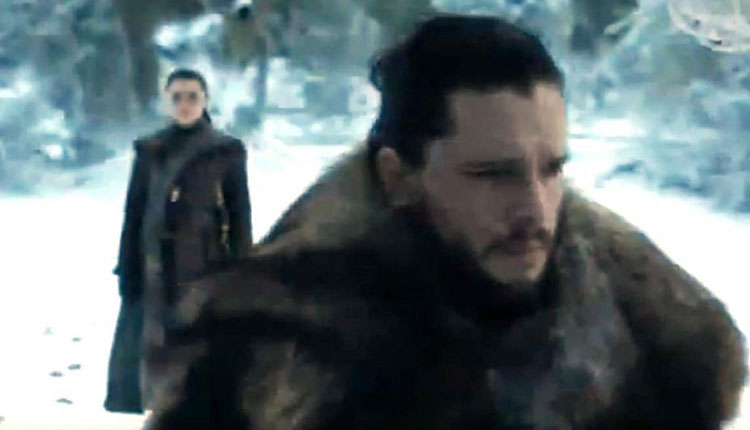 Ahead of Game of Thrones season 8 release date, HBO has dropped a new promo of their fantasy saga. It is to be noted that the clip of the promo has not yet shared by official YouTube Channel of HBO. However, the promo has made its way on social media by the fans of Games of Thrones.
The new promo of Game of Thrones begins with Jon Snow standing under the Weirwood tree in Winterfell. He is joined by his lost sister Arya Stark. Yes, they are reuniting after a long period of time as Jon and Arya were separated in the first season of the show. They are not seen talking to each other but they are merely a few steps away from each other.
What more we saw in Game of Thrones' new promo are Tyrion Lannister speaking in Winterfell's great wall, Daenerys Targaryen standing in front of the fireplace with her back turned to Jon, Beric Dondarrion lighting his sword (presumably during the barn-burning Battle of Winterfell). (Also Read: Game Of Thrones' Sophie Turner REVEALS Why She Tried To Sneak A Kiss With Arya Stark)
Yes, there are scenes in this promo that we have already seen in the trailer which released last month. But, there is something new which shows Tyrion Lannister, Varys and Ser Davos Seaworth looking towards the sky as a dragon takes flight above them.
NEW GAME OF THRONES PROMO pic.twitter.com/OK0PTAT8VM

— ً (@radiclffe) April 1, 2019
The second promo begins with Tyrion. He can be heard saying someone: "We must fight together now, or die." It is again followed by some footage from the last trailer of the Golden Company, the Unsullied reaching the gates of Winterfell and Rhaegal and Drogon flying above snow-capped mountains.
The final season of Game of Thrones will be aired on April 14 with six new episodes length ranging from 60 to 90 minutes.
Also Read: India: Game Of Thrones Season 8 Will Be Simulcast On Hotstar