Guyana: Fly Jamaica Airways plane crash lands at Cheddi Jagan Airport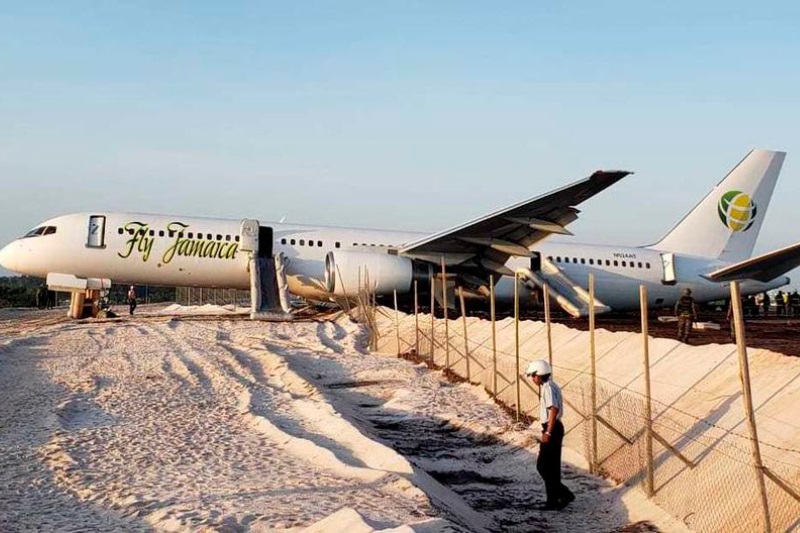 Fly Jamaica, which had been en route to Toronto, Canada, made a crash landing at the Cheddi Jagan International Airport in Guyana on Friday morning. Fortunately, all passengers and crew members are safe. However, six passengers have been treated for minor injuries.
After spending an estimated 43 minutes in the air on the way to Toronto, the plane made an emergency landing at approximately 2:53 am which was followed by an immediate evacuation of crew and passengers. Passengers in the flight included nationals from Pakistan, Trinidad, the US, Canada, Jamaica and Guyana.
Fly Jamaica Airways Chairman, Captain Ronald Reece issued the following statement:
"We can confirm that Air Jamaica flight OJ256 bound for Toronto has returned to Georgetown with a technical problem and has suffered an accident on landing. At this time, we believe that all 118 passengers and 8 crew members are safe. We are providing local assistance and will release further information as soon as it is available."
It is to be noted that the incident is not the first at Guyana's largest airport. In July 2011, a Boeing 737-800 aircraft belonging to Trinidad-based Caribbean Airlines crashed at Cheddi Jagan after landing too far down the runway and running out of braking space, injuring several people. The runway then was 2,255 metres long, but is currently being extended to 3,048 metres.
Fly Jamaica launched operations on 14 February 2013. It is headquartered in Jamaica. One of its key principals is Guyanese aviator, Captain Reece, the chairman of the airline.
Also Read: Jakarta: Lion Air flight carrying 189 passengers crashes into sea