Happy Hariyali Teej 2019: Best Wishes In Hindi, English, Images, Quotes & WhatsApp GIF
Happy Hariyali Teej 2019 Wishes Images, Quotes, Messages, SMS, Wallpaper, Status: Hariyali Teej falls this year on 3rd August 2019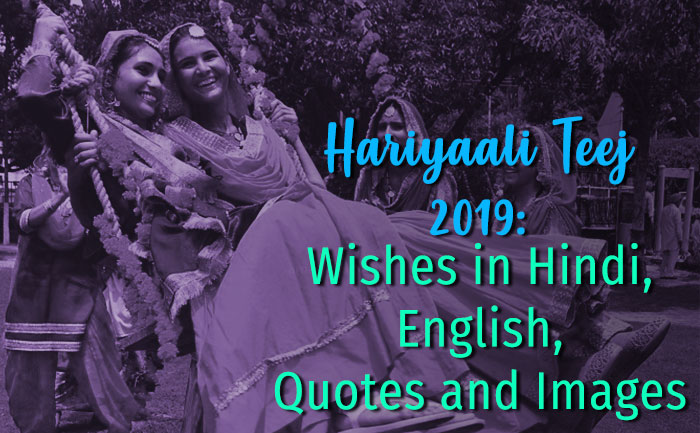 There is no doubt India is known for its diversity. We Indians have plenty of festivals to celebrate throughout the years. Today happens to one of them and it is Hariyali Teej 2019. This popular festival is specially celebrated in Haryana, Rajasthan, Uttar Pradesh, Bihar, Madhya Pradesh, Chattisgarh, Gujarat and Himachal Pradesh. On the occasion of Hariyaali Teej, married women fall in the month of Shravan. They observed fast on this auspicious day for the well-being happiness of their husband. Similar to other festivals, women in India send Hariyaali Teej wishes, quotes, images, WhatsApp status, WhatsApp stickers and Hariyali Teej ki Shubkamnaye to their husband.
Hariyaali Teej 2019
HariyaalI Teej 2019 is a festival dedicated to Lord Shiva and Goddess Parvati's union. The festival generally marks the begining of Monsoon. Talking about Hariyaali Teej, there re three types of Teej which includes Hariyali, Kajari and Hartalika. 33 Best Simple, Arabic, Full Hand, Back Hand Mehendi Designs For Hariyaali Teej 2019
The first one Hariyaali Teej falls on the third day of the bright half of the lunar month of Shraavana. The second one (Kajari) on the third day of the dark fortnight of Bhadrapada while the last one on the third day (Hartalika) of the bright half of Bhadrapada respectively.
This year Hariyaali Teej is celebrated on August 3. During Monsson (Shraavan or Saawan) you see everywhere greenery, therefore the festival is called Haryali Teej.
Here are the Tritiya timings, according to drikpanchang.com:
Tritiya Tithi Begins – 01:36 AM on Aug 03, 2019
Tritiya Tithi Ends – 10:06 PM on Aug 03, 2019
On the occasion of Hariyaali Teej, married women and girls enjoy swing rides(where jhulas are set up under the trees or in the courtyard), apply mehendi, wear colourful bangles and pray to Goddess Parvati. It is believed that Goddess Parvati took part in austerity for many years and kept fast so that she finally becomes the wife of Lord Shiva. The goddess is also revered and prayed upon this day as the Teej Mata.
Talking about Hariyaali Teej Images, wishes, quotes, status and WhatsApp Stickers, we have brought a huge collection of all of them below.
Happy Hariyaali Teej 2019 Wishes
Aaya re Aaya, Hariyali Teej Ka Tyohar Hai Aaya, Sang Mein Khushiyan Aur, Dher Sara Pyaar Hai Laya, Hariyali Teej Ki Dher Saari Shubhkamnaiye.
Kachi- Pakki Neem Ki Nimboli, Sawan Jaldi Aayo Re, Mharo Dil Dhadka Jaaye, Saawan Jaldi Aayo Re. Hariyali Teej Ki Hardik Badhai.
Teej Ka Tyohaar Hai Umango Ka Tyohaar, Phool Khile Hai Baaghon Mein, Barish Ki Hai Fuhaar, Dil Se Aap Sab Ko Ho Mubarak, Pyara Ye Hariyali Teej Ka Tyohaar. Happy Hariyali Teej 2019
rat Teej Ka Hai Bahut Hi Madhur Pyaar Ka, Dil Ki Shraddha or Sachey Vishwas Ka, Bichhiya Pairon Mein Ho Mathe Par Bindiya, Har Janam Mein Milan Ho Hamare Piya, Hariyali Teej Ki Hardik Shubhkamnaye
Chandan Ki Khusboo, Badalon Ki Fuhar, Ap Sabhi Ko Mubarak Ho Teej Ka Tyohar. Hariyali Teej Ki Shubhkamnaye.
Happy Hariyaali Teej 2019 Quotes in Hindi
1. तीज का व्रत है बहुत ही मधुर प्यार का —  दिल की श्रद्धा और सच्चे विश्वास का
इसलिए मुबारक हो यह समय हर्षोल्हास का।  — तीज मुबारक!
2. व्रत तीज का है बहुत ही मधुर प्यार का  — दिल की श्रद्धा और सच्चे विश्वास का
बिछियां पैरों में हो माथे पर बिंदिया  हर जन्म में मिलन हो हमारा पिया
तीज की हार्दिक शुभकामनाएं
3.   झूम उठते है दिल सभी के —   इसके गीतो के तराने से
जुड जाते है टूटे सम्पर्क  —  बस झूलने के बहाने से ।
इस तीज के पावन मौके पर —  हरियाली तीज की शुभकामनाएं
4. तीज का त्यौहार है उमंगों का त्यौहार   — खिले हैं फूल, है बारिश की फुहार
कहते हैं दिल से मुबारक हो  —   आपको तीज का त्यौहा —    तीज की शुभ कामनाएं!
5. व्रत तीज का है बहुत ही मधुर प्यार का   —  दिल की श्रद्धा और सच्चे विश्वास का
बिछियां पैरों में हो माथे पर बिंदिया  —  हर जन्म में मिलन हो हमारा पिया
तीज की हार्दिक शुभकामनाएं !!
Hariyaali Teej 2019 Images & GIF
How to Download Hariyali Teej WhatsApp Stickers?
If you are keen WhatsApp user and wants to send Happy Hariyaali Teej wishes or images to your loved one, you can download WhatsApp stickers for Hariyaali Teej from Google play store. What you all need to do is to click on THIS link. You can download all the above images of Hariyali Teej greetings and GIF images for free.
We hope, you liked Hariyaali Teej 2019 Images, Quotes, Status and Wishes in Hindi and English.