Heaviest Mumbai Downpour Since 2005, Causes Death Of Many Citizens
One of the heaviest rainfall is detected in Mumbai since the 2005 deluge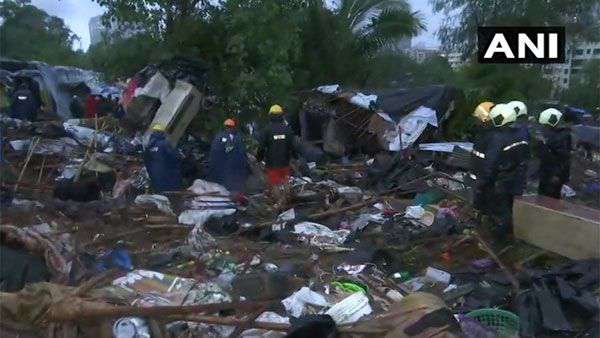 There were constant heavy showers in Mumbai since Saturday till Monday. Tuesday has been comparatively better for the city.  Several areas and adjoining suburbs reported waterlogging which was troubling for locals and exposed. There was a complete civic apathy in the economic capital of the country.
The city recorded the highest rainfall in one day as compared to any other day in 45 years. The heavy rain cost lives of its citizens.
In the hutments of Malad East, 22 people died in the wall collapse. Rescue team was constantly trying to help people get out of it. There was a girl, who was trapped under the debris for 12 hours who could be heard calling for help. She was heard asking for water as well. The teams of the National Disaster Response Force and the Mumbai Fire Brigade could not pull out the girl on time. She passed away by suffocation and thirst. Even though she was injected when she was asking for water. But it did not help the girl. Since the weather conditions and uneven and muddy ground made it difficult for the rescuers to bring in cranes that could lift the debris. Therefore it took even more time. Another woman was rescued alive by the team.
IMD's SantaCruz observatory recorded 375.2 mm rainfall in 24 hours concluding on Tuesday. This was the heaviest rainfall recorded since the 2005 deluge. Also, two men, Irfan Khan (38) and Gulshad Shaikh (35), suffocated to death in the Malad Subway in their SUV.
Also Read: July 2nd Declared As A Public Holiday In Mumbai Due To Heavy Rainfall