How to make Ladoo this Ganesh Chaturthi: Easy and delicious recipes
On the occasion of Ganesh Chaturthi learn making the delicious Ladoo recipes at home following these easy-simple steps. From Besan Ladoo, Rava Ladoo, Motichoor Laddo to Coconut Ladoo, these recipes are unmissable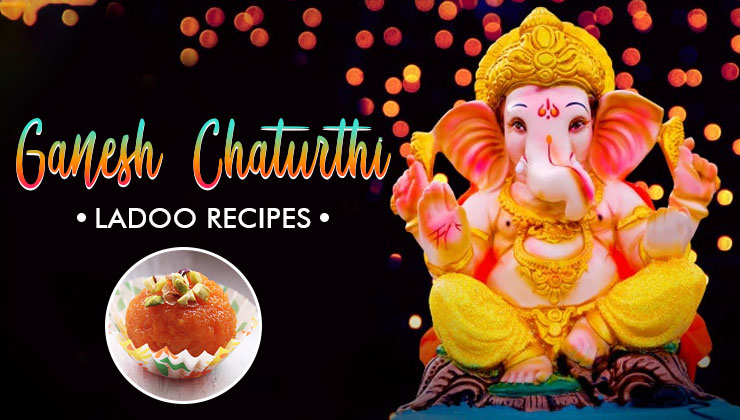 Ganesh Chaturthi is finally here and so the preparations for the celebrations have already began. The festive  seasons in India are certainly incomplete bringing home the sweet dishes. When we talk about Lord Ganesh, we also talk about his favourite things which are mentioned in the mythological books. As per the legends Ganesha likes Modak and the Ladoo the most. And thus people never fail making or purchasing the Modak/ Ladoo on the occasion of Ganesh Chaturthi. Here check out a few interesting Ladoo recipes for this festive season. From Churma Ladoo, Motichoor Ladoo, Boondi Laoo to Coconut Ladoo, don't miss out trying these simple and easy  recipes at home.
How to make ladoo for Ganesh Chaturthi: Step-by-step guide for delicious dishes
Churma Ladoo:
Ingredients:
4 Cups Wheat Flour
2 Cups Jaggery crushed/ jaggery powder
250 grams Ghee
250 ml Boiled Milk/ Warm Milk
Oil for deep fry
1/4 Cup Almonds and Cashews- Chopped
3 tbsp Rava/Semolina
3 tbsp Gram Flour
1 tbsp Cardamom Powder
Procedure:
 Start by making a stiff dough for the recipe. Take half portion of ghee add it in the wheat flour. And keep half portion of ghee for another use. Make the mixture lumps free and add warm milk little-by-little to the flour to form a dough. Knead the dough nicely
On the other side, keep the oil for deep dry in a pan over medium flame
Until the oil takes time to be heated, make the flattened puri taking small chunks from the dough. Form circular pieces
Once the oil is heated, add the flattened dough pieces to the oil for deep dry
Fry the patty until they turn golden brown. Fry all the patty pieces
Once the fried pieces cools down, break them down into small pieces and grind it all together to form a coarse powder
Now take pan and add ghee 4-5 tbsp. Add 3-5 tbsp Besan/ Gram flour and roast it on the lowest flame nicely
Once the Besan starts releasing aroma, add 3-5 tbsp Rava (Sooji)
Add more ghee if needed to roast the Rava and Besan together. This form a thick paste like mixture
Once the mixture is nicely roasted, add grounded mixture of dough to the Besan on the pan
Mix everything together leaving no lumps
Now take another pan and put it over flame. Add remaining amount of ghee and then add jaggery, keep stirring
Once the jaggery is completely melted, add the Ladoo mixture little-by-little over pan
Mix everything well and add fried dry fruits in it
Grease your palms with ghee/oil and form Ladoo shapes
Garnish it with almond/dry fruit pieces before serving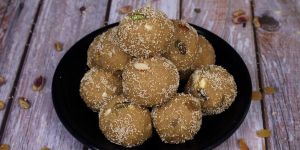 Motichoor Ladoo:
Ingredients:
Almonds – 1 tbsp chopped
Pistachio – 1 tbsp, chopped
Ghee / Clarified Butter – 1 tsp
Besan flour (Gram flour) – 1 cup
Milk – ¼ cup
Water as per need
Food color orange/red – ¼ tsp
Salt  – a pinch
Oil – to deep fry
Sugar – ¾ cup
Water – ¾ cup
Cardamom powder – ¼ tsp
Lemon juice – ¾ tsp
Rose essence / Rosewater – ⅛ tsp
Procedure:
Take a mixing bowl and add the Besan flour after sieving it nicely. Add orange/red food color and then add pinch of salt. Remove all the lumps and add water little-by-little to form the batter. Add little amount of milk to the batter and mix well
Take a pan and add ghee/oil for heating over medium/low flame. Once the ghee/oil is heated nicely, start making Boondi using the strainer ladle on the ghee/oil pan
Deep fry the Boondi for a few seconds and take them out in a plate. The Boondi should be crisp and round
Transfor the boondi to a blender and blend just for 5-6 secs, don't make complete powder. This is to give it a  Motichoor Ladoo's texture
Now take another pan and put it over medium to low flame. Add sugar and little water in the pan and allow it to boil

Once the sugar is dissolved completely and it becomes the Chashni having thick consistency

Now add one spoon of lemon juice to the Chashni. Add cardamom powder and rose essence and switch off the flame
Now immediately add the Boondi mixture to the Chashni and mix everything
Add chopped almonds/ pistachios or any other type of fried dry fruits
Mix everything again. Put the lid on the pan for 2-3 mins to allow the Boondi absorb the sugar syrup. Start making the Ladoo when the mixture is still in warm condition
You can garnish the Ladoo with edible silver paper and nuts/ dry fruits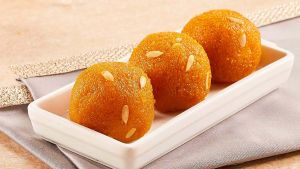 Rava Ladoo:
Ingredients: 
Rava/ Sooji – 1 cup
Sugar – ½ cup
Cardamom powder – ¼ tsp
Ghee – 1/3 cup
Cashews – 6
Procedure:
Take a pan and dry roast the Rava/Sooji on medium/low flame. Don't burn the Rava, keep it white/off white in color
Once the Rava is nicely roasted, transfer it to a mixing bowl
Take another pan and add 2 tbsp of ghee. Once the ghee is heated, add cashew nuts or other dry fruits
Take a blender and add Rava, Cardamom powder and sugar. Grind everything
Take out the mixture in a mixing bowl and add fried cashew nuts/ fried dry fruits
Take small portions of Rava mixture and form Ladoo. Form the Ladoo in warm condition(if needed put on the pan once again for few secs), the binding will happen perfectly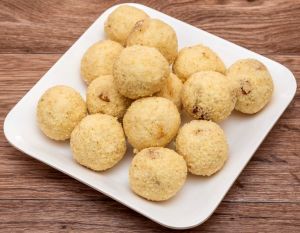 Boondi Laoo:
Ingredients:
500 gm Besan
Rava (Sooji) as per need
Sugar as per taste
Food colour
4-5 green cardamoms
Water as per need
Oil for deep fry
Procedure:
To make the Boondi, take a mixing bowl. Add Besan and Sooji/Rava together. Keep adding water as per the need and make the batter that is lumbs free. The consistency should be thick. Once done, keep the batter aside for few mins for resting
Now take a pan and put it on medium flame. Add ghee or oil for deep frying of Boondi. Let the ghee/oil turn heated. With the help a latte spoon make boondi. Deep fry the Boondi and take out in a plate. Make Boondi from the rest of the batter
 Now take another pan and put it on medium flame. Add sugar (as per the quantity of Boondi), then add little-by-little water. Let the Chashni boil, then add cardamom powder and wait for 15 mins
Once the sugar water appears getting thick, add the Boondi that you already deep fried. Mix well the Chashni and Boondi. You can also add a few fried dry fruits or cashew nut chopped
Take small amount of mixture in greased hands and form Ladoo while the mixture is still lukewarm. Boondi Ladoo doesn't form perfect binding after the mixture is completely cooled.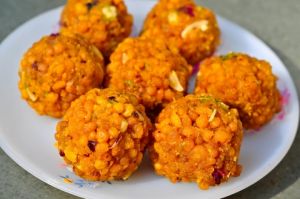 Coconut Ladoo:
Ingredients:
1 Cup Desiccated Coconut
1/4 Cup Desiccated Coconut For Rolling
1/2 Cup Condensed Milk (MilkMaid)
2 Pinch Cardamom powder
1 tsp Ghee
Procedure:
Take a non-stick pan, add one tbsp of ghee/oil. Let the ghee/oil be heated within 1-2mins, then add desiccated coconut to the pan. Fry the coconut nicely and don't let them burn
 Once you see coconut being fried nicely, add condensed milk and cardamom powder to the pan. Keeping the flame low or medium, stir the mixture well
 Once you see mixture becoming thick and when it starts to leave the sides of the pan. Know that its ready to make Ladoo. Turn the flame off and let the mixture cool a little
 Remember, you need to make Ladoo when the mixture is still little warm. This way the binding of the Ladoo will be firm and perfect after it dry's
Grease your hand with little ghee and make small balls. Then take the Ladoo and dip it into desiccated coconut. You can garnish the Ladoo with dry fruits
Store the Ladoo in refrigerator before serving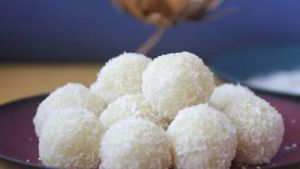 Besan Ladoo:
Ingredients:
2 cup Chickpea Flour / Besan Flour
125 g Ghee
5 to 6 Almonds chopped
5 to 6 Cashew Nuts chopped
3/4 tsp Cardamom Powder
125 g Sugar
 Procedure:
Take a pan and put it over medium-low flame. Add ghee in the pan for heating
Once the ghee is melted fully, add the Besan/Chickpea flour and stir well for 10 to 20 minutes. Don't let the flour burn
When the flour starts releasing aroma and when it turns light brown in color, know that its almost ready. Add Cardamom powder, Cashew nuts and Almonds to the mixture. Mix well everything and turn the flame off
Once the mixture cools down to the normal temperature or to warm condition, add powdered sugar and mix well everything
Now take small portions of the mixture to make Ladoo
The mixture will only form perfect shape Ladoo's when it is warm. Once it is completely dry and cooll, giving them round shape becomes a challenging task
Garnish the Ladoo with almond, cashew nuts or any type of fried dry fruits before serving
Besan Ladoo can be stored for a week or two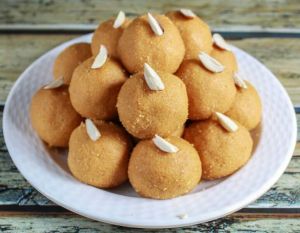 If you liked the above recipes, do let us know. For more such updates, stay hooked on to The Live Mirror.
Also Read:  Ganesh Chaturthi: Date, Shubh Muhurat & Significance Of The Festival