HP Launches Two New Spectre Series Laptops, Price Starting From 1.29Lakhs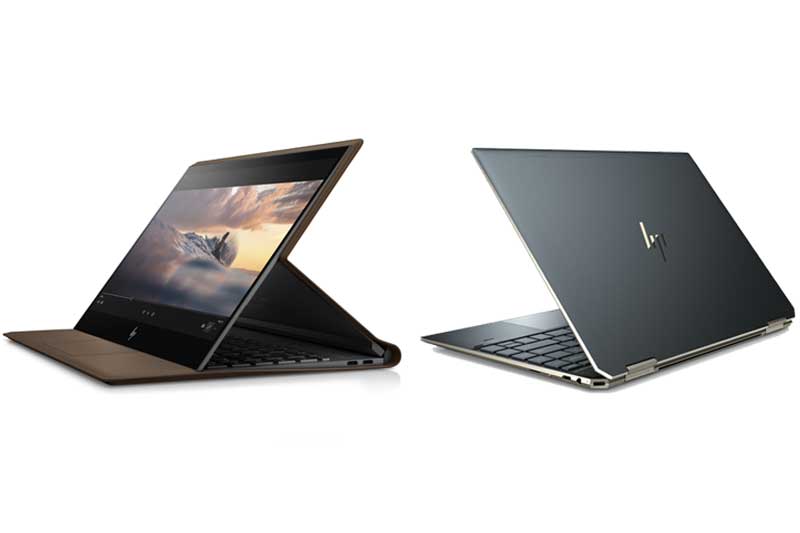 HP launches Spectre Folio and Spectre x360 two new laptop models under the premium Spectre series in India. Spectre Folio revealed price is 1, 99,990 and it comes in Cognac Brown color. The second Spectre x360 cost 1, 29,990 and it comes in two colors Dark Ash Grey and Blue Poseidon.
The models were announced today at an event in New Delhi, both devices are 2-in-1 hybrid laptops which feature 8th Generation Intel Chipset.
HP Spectre Folio Specification:
Spectre Folio is the world's first convertible PC with 100% Genuine leather. The chrome-tanned lather gives the pc a premium look. Users can use the laptop in three mode – laptop mode, media position, and table mode. Powered by 4G LTE, up to 19hours of battery life, rich audio, backlit keyboard, the portable laptop is ideal for those who are hungry for style & performance. HP is currently selling 2 different models under the Spectre Folio series, one is 4G enabled and other works on Wifi. Below is the list of products and the available hardware variants.
Note: The price below is for the default config, you can customize the hardware on official HP site and price changes on the basis of hardware you choose.
HP Spectre Folio Laptop 13t & 13t-ak0015nr
The hybrid laptop comes in two versions one with 4G LTE and one without it. The series has various customization options from Display resolution to CPU, RAM, Storage, OS Keyboard, etc. Standard non 4G model comes with 13.3inch WLED IPS WLED display + Windows 10 Home, Core i5, 8GB RAM, 25GB SSD cost around $1199.99. You can upgrade to Core i7 and upto 2TB SSD Storage with max 16GB RAM. HP promises long battery life, up to 11 hours on the UHD model that offers 4K resolution and 19 hours on FHD model. AK0015NR is the 4G edition that cost $1399.99 and comes with standard specification of Core i7 + 8GB RAM + 256GB Storage. The display size is 13.3inch WLED and it runs on Windows 10 Home x64. The price in India for the Cognac Brown starts at a price of Rs.1,99,990/-.
HP Spectre x360 Specification:
Spectre x360 comes in two screen sizes, it is designed for on-the-go computing. The laptop features HP Sure View Privacy Screen, by hitting F1 the privacy mode is activated that turns screen dark for anyone trying to view your display. It also has a fingerprint reader, privacy camera kill switch and HP Wide vision FHD IR Webcam. The hybrid system comes in 15.6" and 13.3" screen and different hardware config. Screen options are available between FHD and 4K resolutions. Processor options are Core i5 or Core i7 and the approx. Cost starts from Rs.1,29,990 to Rs.1,39,990 /-.
Both the models come with a year subscription of McAfee and target the premium consumers. The models fall under the luxury line because of its premium design and specs.