Hurricane Ida Strikes Louisiana As Category 4 Storm
Category 4 Storm Hurricane Ida strikes Louisiana Leaving New Orleans Without Power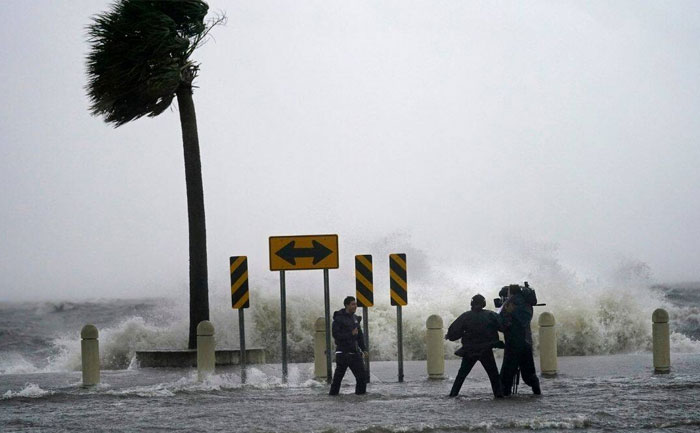 Hurricane Ida struck the coast of Louisiana Sunday as a powerful Category 4 storm. The storm struck the port, located approximately 100 miles south of New Orleans at 150 miles per hour. Hurricane Ida blew off roofs and reversing the flow of the Mississippi River rushed toward New Orleans. This is the worst storm faced by the United States 16 years after deadly Hurricane Katrina devastated the southern city of New Orleans.
Hurricane #Ida has made landfall in Louisiana. Find the safest place in your house and stay there until the storm passes. STAY INDOORS. #lagov #lawx pic.twitter.com/a2meft42A8

— John Bel Edwards (@LouisianaGov) August 29, 2021
"This is going to be much stronger than we usually see and, quite frankly, if you had to draw up the worst possible path for a hurricane in Louisiana, it would be something very, very close to what we're seeing," Gov. John Bel Edwards told The Associated Press.
Large tree uprooted and topped onto home in Morgan City, LA. Woman was asleep when it hit her house. She is fine. @weatherchannel @StephanieAbrams #HurricaneIda #Tropics pic.twitter.com/KtwhZ6HSC1

— Charles Peek (@CharlesPeekWX) August 29, 2021
Officials said Ida's swift intensification from a few thunderstorms to a massive hurricane in just three days left no time to organise a mandatory evacuation of New Orleans' 390,000 residents. In eastern New Orleans, a few residents were still completing last-minute preparations just hours before landfall.
The White House said that federal agencies had deployed more than 2,000 emergency workers to the region — including 13 urban search-and-rescue teams along with food and water supplies and electric generators. The Red Cross and other organizations have prepared dozens of shelters for at least 16,000 people.
Also Read: Hurricane Laura: Category 4 Hurricane Kills 4; Extensive Property Damage