BTS To Perform At iHeartRadio Live Event In Los Angeles On January 27
You can watch iHeartRadio LIVE show with BTS' at 9pm ET / 6pm PT only on CW Network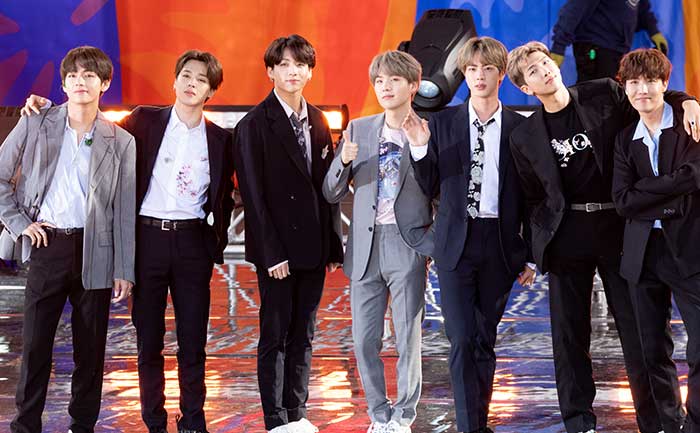 Days before their 'Map of the Soul: 7′ release, South Korean boy band, BTS is all set to collaborate with IHeartRaadio, Hot Topic and the CW for a live event scheduled to be held in later this month. The announcement of BTS joining hands with IHeartRadio for the live performance was made by none other than the IHeartRadio itself on January 14, 2020.
According to reports, IHeartRadio Live event with BTS members is scheduled to be held at the iHeartRadio Theater in Los Angeles on January 27 this year. Notably, BTS' live performance will be happening a few days before the release date of their first single off of upcoming Map of the Soul: 7 album.
BTS' upcoming Map of Soul: 7 album is all set to arrive on February 21, 2002.
Announcing live show with BTS, IHeartRadio wrote on Twitter, "We are so excited to announce the iHeartRadio LIVE show with BTS presented by Hot Topic!."
We are so excited to announce our iHeartRadio LIVE show with @bts_bighit // @BTS_twt presented by @HotTopic at the @iHeartTheaterLA on January 27th! The show will air at 9pm ET / 6pm PT only on https://t.co/2YQIUk0U4u! ?

More details: https://t.co/pxeK7t8eFc #iHeartBTS pic.twitter.com/L2tiSDFW4M

— iHeartRadio (@iHeartRadio) January 14, 2020
You can watch BTS' live performance at 9pm ET / 6pm PT only on CW Network.
According to reports, BTS will perform at an event titled "iHeartRadio LIVE with BTS presented by HOT TOPIC" at 6 p.m. PT/9 p.m. ET that day, and it will be available via live stream.
There are fans of BTS who have pointed out that BTS's live show will be held a day after the 2020 Grammy Awards scheduled to take place.
Notably, The Korean group attended the show in 2019 and became the first Korean artist to take to the stage when they presented the award for Best R&B Album. While they were not nominated this year, many are curious to see if they might attend the ceremony as part of this stateside trip.
Also Read: MAX Wishes To Collab With K-Pop Idols Including BTS, BLACKPINK & Day6