MAX Wishes To Collab With K-Pop Idols Including BTS, BLACKPINK & Day6
American singer and songwriter, Max would love to join hand with K-pop idols such as BTS, Blackpink and Day6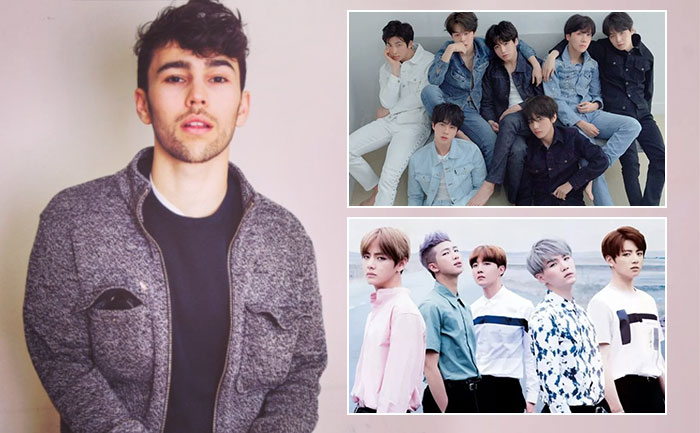 American singer Maxell George Schneider, who is professionally known as MAX has expressed his desire to collaborate with popular South Korean artists including BTS and BLACKPINK. In an interview with Korea Times, Max has spoken about his wish to work with popular K-Pop artists such as BTS, Stray Kids, DAY6, MONSTA X, and BLACKPINK.
In the same interview, Max also spoke about his upcoming concert which is likely to take place in Korea this month. Elaborating his bond with BTS' Jungkook, Max said, "In the past few years, Jungkook has shared a few of my songs, and every time he introduced [my song], I felt really good, and it felt like an honor." BTS' Jungkook Declared Most Handsome Face Of 2019
Notably, BTS' Jungkook had earlier recommended his song, "Love Me Less." In a response, MAX took to Twitter and had said that he hoped to meet Jungkook personally during his upcoming concert in Korea.
Speaking about his favorite song, Max revealed that BTS' 'Fake Love' is one of my favorite songs.
MAX had previously collaborated with other artists including Hoodie Allen, Joey Bada$$, and Quin XCII. If he joins hands with BTS, Day6 and BLACKPINK, it would be his first collaboration with any Korean musicians.
Sharing his views on collaborating with any K-pop musicians, Max said,  "I love BTS, Stray Kids, Day6, MonstaX and Black Pink," he said. "It would be an honor to create something together. Groups like BTS and Day6 have been giving my music so much love for years."
According to reports, MAX's first concert is scheduled to be held on January 14 at 8 p.m. KST at MUV Concert Hall in Hongdae, Seoul.
It is likely that MAX's next album would be released later 2020 as an "exciting pre-summer gift."
Also Read: BTS Celebrates New Year 2020 In Times Square: Fans Definitely Loved It, Here's Proof