Iran admits to unintentionally shooting down Ukrainian plane
'Disastrous Mistake': Iran Admits to Downing Ukrainian Plane, Protests Erupt In Tehran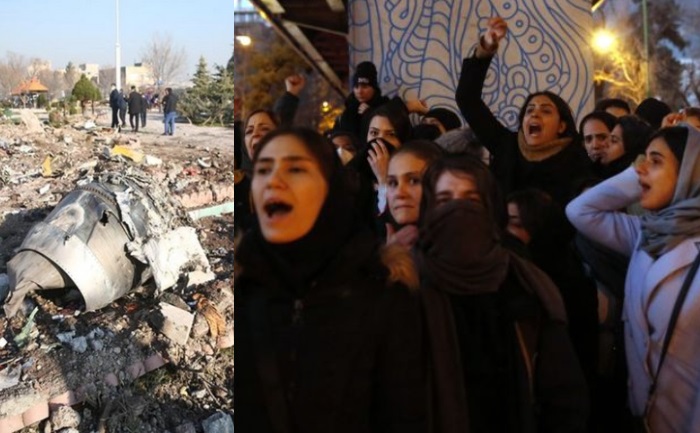 Iran after days of denial has finally admitted that Iranian forces accidentally downed Ukrainian airliner, killing all 176 aboard. President Hassan Rouhani called it a "disastrous mistake". Iran said on Saturday that a missile fired in error on Wednesday by its air defenses while on alert after Iranian missile strikes on US targets in Iraq brought down the plane. Iran had denied for days after the crash that it had shot down the airliner.
The admission has provoked international outrage and triggered growing protests against Iranian authorities in Tehran and other cities. A group of Iranian protesters has demanded Iran's Supreme Leader Ayatollah Ali Khamenei and other senior leaders step down. Videos posted on Twitter showed hundreds of people chanting in front of Tehran's Amir Kabir University on Saturday.
BREAKING:
Public mourning gatherings turn into protests in #Iran. Angry crowds chanting, "Death to the liars."#IranPlaneCrash #UkrainePlaneCrash pic.twitter.com/20jPNia6WJ

— Farnaz Fassihi (@farnazfassihi) January 11, 2020
US President Donald Trump, who has said he does not seek "regime change" in Iran, took to Twitter to express his support for the demonstrators, writing, "We are following your protests closely, and are inspired by your courage."
To the brave, long-suffering people of Iran: I've stood with you since the beginning of my Presidency, and my Administration will continue to stand with you. We are following your protests closely, and are inspired by your courage.

— Donald J. Trump (@realDonaldTrump) January 11, 2020
But he was slammed as Twitter users criticized him noting that he previously threatened to attack 52 Iranian sites.
The Ukraine International Airlines flight PS752 bound for  Ukraine, it crashed minutes after takeoff from the Imam Khomeini International Airport in Tehran. The shocking incident that killed all on board took place hours after Iran launched missile attacks on US forces in Iraq in retaliation for the US assassination of top Iranian commander Qassem Soleimani. The plan was carrying 167 passengers and nine crew members, 82 Iranians, 57 Canadians, including many Iranians with dual citizenship and 11 Ukrainians.
Also Read: Iran Fires Ballistic Missiles At 2 United States Bases In Iraq