Martin Sheen Recites Rabindranath Tagore's Poem at climate change protest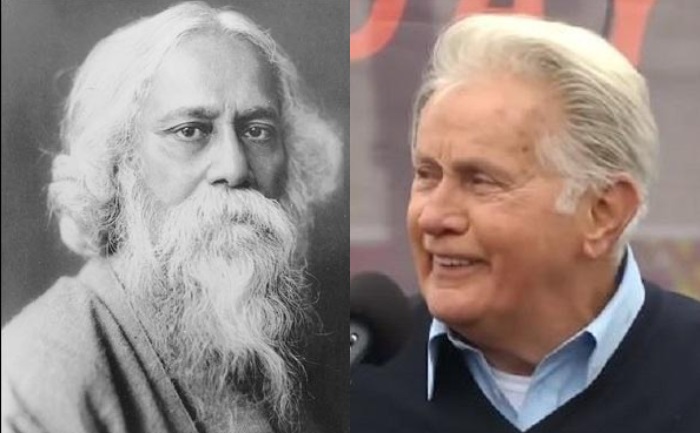 Hollywood actor Martin Sheen recites Rabindranath Tagore's poem at a climate change protest. The 'West Wing' star quoted from Tagor's poem, 'Where The Mind Is Without Fear' while addressing the audience at the Fire Drill Fridays event in Washington, DC on January 10. The event was a weekly climate change protest that is organized by veteran actress Jane Fonda. He was arrested by the police, and later released.
Watch the video here:
Martin Sheen: "Clearly, the world will be saved by women. Thank God they outnumber us men." #FireDrillFridays pic.twitter.com/ZDDao77yOx

— The Hill (@thehill) January 11, 2020
Sheen praised Jane Fonda and said, "Clearly, the world will be saved by women. Thank God they outnumber us men. "
He then motivated the crowd, to take action for by reciting Tagore's poem "Where the heart is without fear, and the head is held high , where knowledge is free. Where the world has not been broken up into fragments by narrow domestic walls. Where words come out from the depth of truth, where tireless striving stretches its arms toward perfection. Where the clear stream of reason has not lost its way into the dreary desert sand of dead habit. Where the mind is led forward by thee into ever-widening thought and action. In to that heaven of freedom, my father, let our country awake!"
However, Sheen did not mention Tagore as the source of his speech but netizens soon applauded him for reciting Tagore.
This happened yesterday. Martin Sheen reciting Rabindranath Tagore is a thing of beauty. pic.twitter.com/8yw69YcD9Q

— Voice Of Ram (@VORdotcom) January 11, 2020
Martin Sheen reciting Tagore will leave you shaken and stirred https://t.co/y5WoSdaKGk

— Cricketwallah (@cricketwallah) January 11, 2020
Where The Mind Is Without Fear was written by Rabindranath Tagore before India's independence. The poem was published in 1910 and was also included in his collection of poems.
Also Read: Alert: Earth may last till 2040; Climate change the biggest reason