Jharkhand: Man Murdered By Mob, History Repeated
Tabrez Ansari was killed by a Mob in Jharkhand, his father was killed the same way 15 years ago.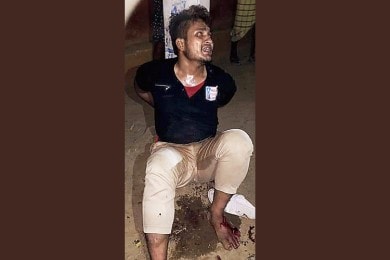 On 18th June, Tabrez Ansari was assaulted and tied to a pole. He was also forced to chant "Jai Shri Ram" and "Jai Hanuman" by a mob in Ranchi, Jharkhand.  He died on 22nd June, four days after he was attacked. He was in a hospital in Jharkhand and succumbed due to injuries.
According to locals, his Father Maskoor was killed similarly 15 years ago, in Bagbera area of Jamshedpur. Mohammed Mosahid Khan, general secretary of Congress's district said he had gone to Jamshedpur to bring his body back after it was identified.
Eleven people have been arrested in the case on 23rd June. Amongst them, two are the main accused of the Dhatkidih village. When interrogated, the family members said that most of them had not even passed the matrix. Some were unemployed, looking for a job and some were daily wage workers.
Tabrez's wife filed a complaint in Seraikela police station, affirming that Tabrez was caught by the crowd and beaten to death. He was on his way to Jamshedpur on a bike.
After Beating him up, the crowd handed him over to the Police. He had to be admitted to the hospital because of his physical condition where he died on Sunday.
Tabrez's wife also blamed the police for his death because he was not given timely medical attention.
Also Read:  Jharkhand: IED Blast In Saraikella Injures 11 Security Personnel