The Office Stars Steve Carell and John Krasinski Have A Surprise Reunion
Some Good News started out when Krasinski asked people to send him good news on Twitter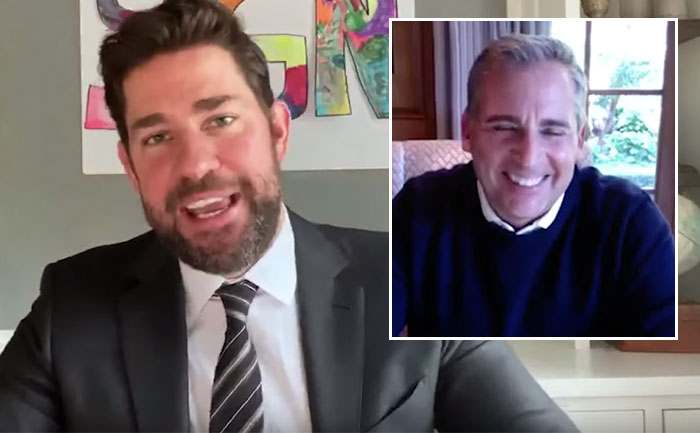 While half the world has been forced into a lockdown during the coronavirus pandemic, John Krasinski is trying his best to keep it positive. After Shawn Mendes and Camila Cabello joining the string of celebrities to perform at the iHeartRadio Living Room concert, Krasinski has launched his own YouTube channel. The channel is called Some Good News (SGN) and it saw The Office stars John Krasinski and Steve Carell having a surprise reunion. It was a treat for fans of The Office.
Krasinski and Carell spent some time talking about their favorite moments during filming The Office. Steve Carell admitted that some of his favorite moments came during the "Dinner Party" episode. This episode featured Jim and Pam having dinner with Michael Scott and Jan Levinson.
However, after reminiscing about the episode, Krasinski brought up the "GoodBye, Michael" episode which saw Steve Carell leave the show in season 7.
Some Good News started out when Krasinski asked people to send him stories that made him smile on Twitter. When he received a number of replies, the idea of SGN was born.
"For years now, I've been wondering, why is there not a news show dedicated entirely to good news? Well, desperately seeking my fix somewhere else, I reached out to all of you this week, asking–nay, begging–for some good news. And boy, did you deliver," Krasinski said, via The Hollywood Reporter. "After reading those replies and the incredibly heartwarming stories that came with them, I thought, 'All right. Enough is enough, world. Why not us? Why not now?' So, ladies and gentleman, this is your fault, and this is SGN," he added. "I'm John Krasinski, and if it isn't clear yet, I have absolutely no idea what I'm doing."
In addition, Steve Carell and John Krasinski also joked about a potential reunion episode much like Friends. However, the two ultimately canned the idea.
If the news has made you nostalgic, you can catch all nine seasons of The Office on Netflix.
ALSO READ: John Krasinski Unveils The Secret To His Happy Marriage With Wife Emily Blunt