Kalyani Sharan: It was the father who was responsible for the gangrape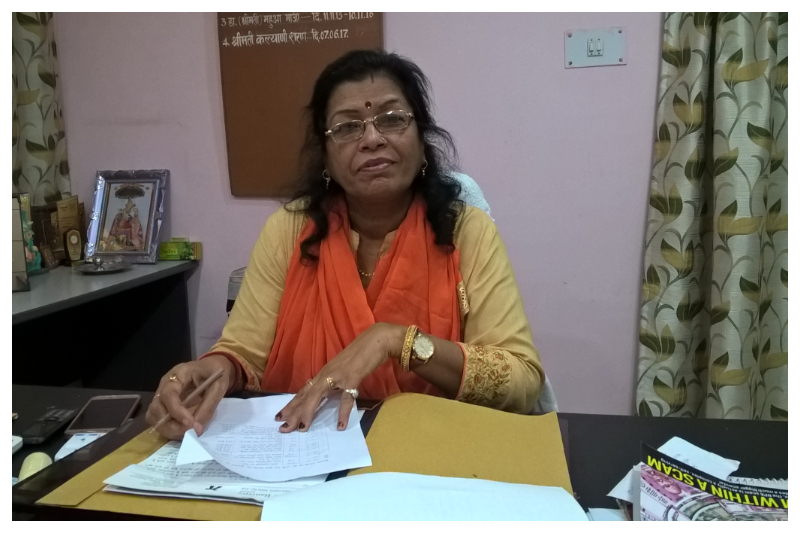 Mounting pressure from the media and the National Commission for Women have forced the Jharkhand state administration to pull up its socks in the gangrape case of five women activists in Khunti district of Jharkhand on June 19. As police have arrested three accused, including a priest, smell of controversy looms large. TLM caught up with Jharkhand State Women Commission chairperson Kalyani Sharan on Monday and tried to understand the condition of human trafficking in the state, along with state commission's take on the gangrape incident.
Here are excerpts from the interview:
TLM: Along with the national and state team of the women's commission and the administrative team of the state government, you visited the place of incidence. You also met the victims who described their ordeal. Your take…
Kalyani Sharan (KS): Whatever happened on June 19 is shameful, not only for Jharkhand but for the entire nation. It is condemnable. I has said earlier, and will say this 100 times, that if an organisation is taking its team for street play, wasn't it their responsibility to inform the administration about their programme, as the place is a controversial one? 'Taali dono haath se bajti hai, ek haat se nahi bajti hai' (A clap is not possible with one hand).
They (the organisation – Asha Kiran) thought themselves as 'Supremo'. Neither they informed administration, nor media, not even they notified about the programme schedule at a 'controversial site' anywhere in public domain. Other states too have understood that this is a case of 'Pathalgarhi', so the organisation should have taken help from the administration.
We had goosebumps on listening to the victims' story. Will the parents leave their children in middle of nowhere or ensure that they reach the place from where they have been taken from? How come you (Father) leave the five women with unknown people? Was it an attempt to defame the government, that you left the women along with the rapists? Was it not their (Organisation and Father) responsibility to ensure safe reach of these women? If there would have been a proper information to the administration, then these women would have been safe and even though something like this had happened, administration would have been responsible.
When we met the victims, each one said they were thrashed with sticks and then raped. How pathetic is this for Jharkhand?
Also Read: Jharkhand Gangrape: Victims break down on NCW team visit, narrate horrific story
TLM: A Father (priest) had also been taken into judicial custody. How are looking at this angle and what might the repercussions?
KS: (Pointing fingers on Alphonso Aind, Father of RC Mission School in Barudih) Earlier it was doubtful. No one can think anything against Father and nun's involvement in these type of crimes. But with what happened in Khunti, there is a co-ordination between Christian Missionaries with pro-Pathalgarhi movement members. Even, the phone calls of Father would resemble that, provided a thorough investigation is done.
Tribal women are very simple. Just imagine what happened with them, had it happened with either Sikh community or others, there would have been riots in Jharkhand. Why is it, that the tribal leader, senior activists and ministers are silent till now? It simply means – tribal exploited tribal. Tribal men raped tribal women….why is it the head honchos are silent? But we will not remain silent, our commission will fight till the end and ensure justice to the victims.
Even administration is serious about these issues. But, looks like they (pro-Pathalgarhi movement members) are not letting them work and trying to defame the government. And in this, Christian missionaries are involved, and I'm not doubtful, but confirmed. People will loose faith in the name of Father. Had Father informed administration, our women would have been safe.
Also Read: Jharkhand Gangrape: Police arrest 3, hunt for others on
TLM: Reports say that five women were abducted and then raped brutally. What exactly happened?
KS: I have complete report of five victims. There were five women activists – 2 married, 2 unmarried and a widow, all between the age group of 19-35 years. All these women were forced to walk 8-12 kilometres in jungle, were beaten with sticks and lined up naked and then raped brutally in turns. What is this?
TLM: You said that the place of incidence is controversial and Pathalgarhi movement is active there, which has also spread to Chhattisgarh, Odisha and Madhya Pradesh. What is this 'Pathalgarhi Movement'?
KS: These people are the self-proclaimed 'Supremo'. They want to live in their own terms. Since, there are a lot of things happening there, the government is looking at this matter and administration too is strict. I won't speak about it.
TLM: Now the villagers have said that they would not cooperate with the administration, as they are hurt (due to the arrest of Father) of biased investigation, how will the other accused be nabbed then?
KS: This is a judicial matter. I will not speak on this. Let the police and administration do their work. What I heard from the victims was that the Father was involved and left the women with rapists. It was his responsibility to protect the victims, which he didn't.
All these women were taken in the hot afternoon and raped between 1 pm to 1:30 pm. Abducted at gun point, the women were forced to walk 8-12 kilometres in the mountains of jungle and then this heinous crime took place. No water, no clothes….what kind of exploitation is this?
Also Read: Jharkhand gangrape: NCW directs DGP to appraise commission on action plan
TLM: Today also a women was raped in Lohardaga district. Coming back to the 2016 NCRB data, 130 cases of human trafficking, 1032 of rapes and 77 of gangrapes were reported. Among these, 20 (women and girls) were trafficked for forced labour and 18 for domestic servitude. Is the condition of Jharkhand that bad?
KS: Jharkhand to Sone ki Chirya hai (Jharkhand is bird of gold). But if people defame it, is it the fault of Jharkhand or people? When a son does not respect his mother, is it the fault of mother or son? Do not blame Jharkhand, blame the people residing in it.
TLM: Another surprising fact, that in 2016 (NCRB 2016), 83 people were arrested for human trafficking, 75 were chargesheeted but no one has been convicted. How can this be possible?
KS: This is a matter of judiciary. If you ask me what are the areas I see or my organisation does, I will be able to answer you. It is not under my jurisdiction. However, people have to correct themselves and their measures. Society has to take active participation in curbing exploitation against women. Then only these incidents will end. Just sitting on sofa and discussing matters like these won't solve the issues of society.
Wolves are everywhere. We have cases like that. Uncle raped niece, brother raped sister, even father raped daughter. What are you going to do with those wolves in house? Even death sentence is less for these convicts.
TLM: Since last decade, there has been a rise in the women trafficking cases in Jharkhand. They have been sold as domestic help and even bonded labourers for Rs 20,000-40,000. Most of them have not returned yet. What is Jharkhand State Women Commission doing to stop this and what are your plans?
KS: We have come across cases where family members do not want to accept the returned/raped women. Taking care of these affected ones, is a big challenge for us. We have written to the government that in 24 districts of the state, where human trafficking is at peak, especially like – Lohardaga, Khunti, Simdega and Gumla – there should be shelter homes for the affected ones. The commission is doing its job in rehabilitation of these women.
Where administration is concerned, judiciary is concerned, I cannot comment on it. No one interferes in another department. We are spreading awareness in the 24 districts about various issues, by making personal visit.
Last, I would say, if the organisation and Father had good intentions, they would certainly informed the administration about their street play. If it was done, our daughters would not have been raped.