Katrina Kaif's Doppelganger Discovered on TikTok, Fans Can't Keep Calm
Karina Kaif's look alike was found on Tik Tok and she claims that she does not see any similarities.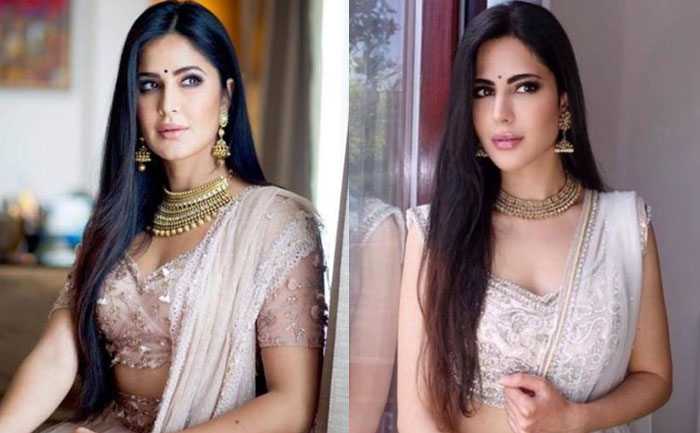 Bollywood Katrina Kaif's doppelganger has been discovered in the form of Alina Rai and she has taken the internet by storm. Alina Rai was spotted by none other than the fans of Katrina Kaif on popular video sharing application, TikTok. The TikTok star is also quite famous on Instagram as she is a fashion blogger and has 33,000 followers on Instagram.
Speaking about her comparison with Bollywood diva, Katrina Kaif, Alina Rai said to Hindustan Times, "I personally don't see this. I believe that sometimes when it's someone from the film industry, people when they see actors or models they aren't familiar with, they see exactness or association with someone familiar and so they rid them of their originality or the independence of who they are… but with time I hope I can create my own mark and people will recognize me as myself and as Alina Rai and not a copy or anything like that because I actually don't really resemble her so much. Neither my family sees it not my close friends see it. Maybe it's something people see from a distance." Also Read: Akshay Kumar's Lookalike Found In Kashmir; Check Pics
"I mean I think she is amazing…she has established herself as a star in Bollywood. However, to be compared to someone is… I don't really see it as a compliment or as an insult. I feel you should really make your own mark and your own shine. If you feel inferior under someone else's shine, I feel like it's not right. And I would like to hopefully be myself and for others to be seen as a role model and not to be compared to anyone else." she further added.
Look at Katrina Kaif's doppelganger Alina Rai's photos:
Katrina Kaif's fans have been commenting on Alina's Instagram pictures saying, "Lmfaooo god said f**k it we droppin Katrina 2.0 on earth," wrote another. "I see the photoshop copy of Katrina Kaif"
On the work front, Katrina will be seen next with Akshay Kumar in Rohit Shetty's 'Sooryanvanshi', the two will be reuniting on the silver screen after almost a decade.
ALSO READ: Hrithik Roshan And Katrina Kaif To Pair Up For Satte Pe Satta?