Keanu Reeves goes public with his first girlfriend in Decades as he holds hands with artist Alexandra Grant
The star held hands with the artist at the LACMA Art + Film event in LA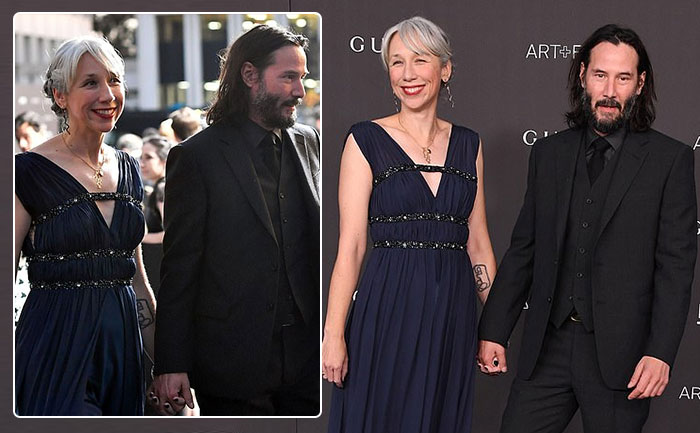 Keanu Reeves has not given the tabloids much to talk about when it comes to his love life. The actor hasn't been in a serious relationship in forever. Things might be looking up for the John Wick actor though. Keanu Reeves was spotted holding hands with artist Alexandra Grant at the LACMA Art + Film Gala. The duo collaborated on Alexandra's books Ode To Happiness and Shadows previously.
The two proved they had nothing to hide as they posed for dozens of photos for the press. The couple presented a dapper picture with Keanu sporting an elegant black suit while Alexandra looked elegant in a navy blue gown.
Alexandra Grant was seen smiling adoringly at the Matrix star as they made their entrance at the gallery. The appearance seems to confirm the rumors that they are a couple. They were also spotted walking out of a sushi bar in West Hollywood last month.
Twitter goes wild over Alexandra and Keanu
Twitter is having a field day with hearts breaking and swooning in equal measures.
I mean seriously, if anyone deserves to find love in this world, it should be this gem of a man whom by all public accounts is — at his core — the embodiment of pure kindness, generosity, and humility. I don't know Keanu, but I am so happy for him. https://t.co/VrfOJw1f3J

— Reappropriate (@reappropriate) November 5, 2019
Keanu Reeves has a girlfriend??! My heart hurts ?

— Jan_07x (@Jan_07x) November 5, 2019
Keanu Reeves has previously been linked to Amanda De Cadenet, Sandra Bullock and Claire Forlani. Those rumors were never confirmed though. His only serious relationship was in the 90s with actress Jennifer Syme. The two tragically lost a child in 1999. Their daughter Ava was stillborn prematurely. Tragedy continued to haunt their lives when Syme drove her Jeep into a row of parked cars in LA in 2001, leading to her death instantly.
The Matrix star has previously said that he is a "private person", telling Esquire: "I think actors and actresses are maybe a little more private than other celebrities. I don't know. I'm a pretty private person. But I don't have anything to tweet, or say, or anything."
ALSO READ: Keanu Reeves The First Man Angelina Jolie Is Attracted To Post Divorce