Internet Sensation Ranu Mondal gets slammed for her disrespectful behavior with a fan; Watch video
Ranu Mondal who became an online sensation overnight is seen lashing out at a fan who asked for a selfie.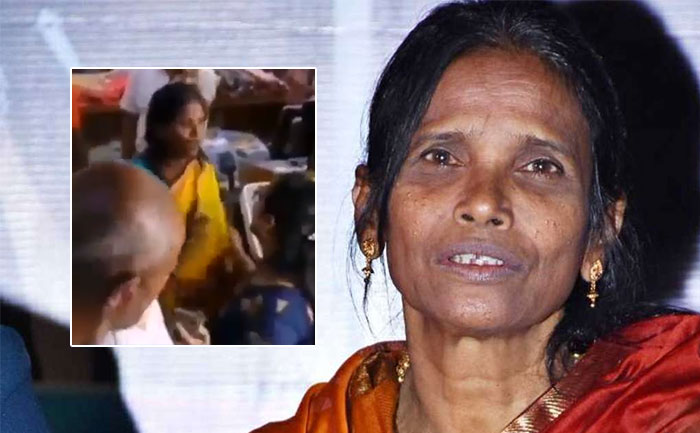 Internet sensation Ranu Mondal has gained an immense fan following after the video of her singing Lata Mangeshkar's Ek Pyar Ka Nagma had gone viral on the internet. The 59-year-old singer was discovered when she was singing at the railway station in Ranaghat, West Bengal.
Himesh Reshammiya launched Ranu Modal as a playback singer and gave her a chance to sing three songs in his film, 'Happy Hardy and Heer.'
Recently, a video has gone viral on social media. In the video, Ranu's fan approached her for a selfie by tapping her on the shoulder while Ranu was buying something at the supermarket. The fan got so excited about seeing Ranu that she even held her hand in excitement however, Mondal got annoyed on the fan for touching her and for holding her hand and also seen lashing out at the fan and saying, "yeh kya Hota hai, what does this mean?"
Watch the video here:
Looking at her reaction, social media users were upset and started commenting on the post saying, "Karma will be watching 24/7 karma knows how to treat her well" whereas another user also said, "Ohh .. itna ghamand.. hum logo ne hi tume famouse Kiya madam. Or mint lagege hum hi niche patak denge."
Check out the Twitter reactions:
Really sad we all twitterati supp her when her station vala video came see her behaviour after becoming celebrity
Such insult of any fan is pathetic #RanuMondal @singh_harmeet84 https://t.co/8rQHcEijau

— Nandini Idnani (@idnani_nandini) November 4, 2019
This woman once earned her meal but touching someone and begging for help. Now that she has became a star of some sort is objecting to touching by a fan of hers. That the worst type of human being. #RanuMondal https://t.co/JWLs7jcPIK

— Sameer (@Sameer_L) November 5, 2019
A #Fan Approached #RanuMondal (Ex Railway Station Begger) For A #Selfie, But Rice Bag #Convert Shows Her #Aukat » "Don't Touch Me, I Am A #Celebrity Now"!..#Note : Citizens Made Her Celebrity, Now See Her #Attitude!..??‍♂️ pic.twitter.com/r1cToA3Tjk

— Ashwath (@3DAshwath) November 5, 2019
There have been rumors going around that there will be a film based on the life of Ramu Mondal and director Hrishikesh Mondal to helm this biopic. Although no official announcements are made by the Hrishikesh nor Ranu.
ALSO READ: Pati Patni Aur Woh: Twitter Slams Kartik Aaryan For Joking About Marital Rape