Helen Mirren Responds To People Mistaking Her As Keanu Reeves' Girlfriend
The 74-year-old actress has been married to Taylor Hackford since 1997.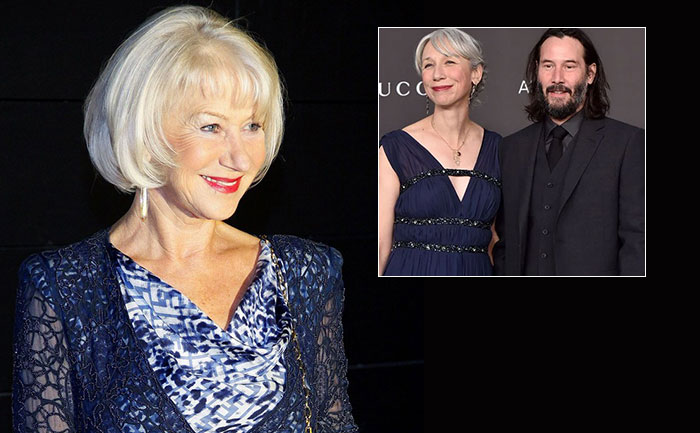 News of Keanu Reeves' relationship with Alexandra Grant broke earlier this week. An overwhelming number of people came out support the two. Some, however, could not get past the fact the Keanu's new girlfriend looks strikingly similar to 74-year-old actress Helen Mirren.
The two share similar facial features and with Alexandra's naturally silver hair, the resemblance is uncanny. There were even some who were convinced that Keanu Reeves was dating Helen Mirren. That is preposterous, of course, as the actress has been married to Taylor Hackford since 1997.
The rumours circulated so much, they even reached the ears of the actress. On the red carpet premiere of her film, The Good Liar, ET asked Helen about her thoughts on the topic.
'I saw that,' Helen told the journalist. 'That was very flattering on me, you know, because she's obviously lovely. I do know Keanu very well. He did a film with my husband and he is just the most adorable, lovely person. So, she's a lucky girl and I'm sure that he's a lucky boy.'
Keanu Reeves has always avoided making his private life public. This is the reason that fans went into overdrive when they saw him holding hands with Alexandra Grant at the LACMA Art + Film Gala in Los Angeles.
According to friends of the actor, he is very happy with Alexandra Grant. The actor has never had a serious relationship since the death of his ex-girlfriend Jennifer Syme. A friend told the tabloids, "He was in such a dark place for so long, but Alexandra's positive outlook and support have played a huge part in helping him turn his life around."
ALSO READ: Keanu Reeves Goes Public With His First Girlfriend In Decades As He Holds Hands With Artist Alexandra Grant