Kendall Jenner Completes Bottle Top Challenge While Riding A Jet Ski
Kendall Jenner adds a new twist to the viral Bottle Top Challenge; watch video here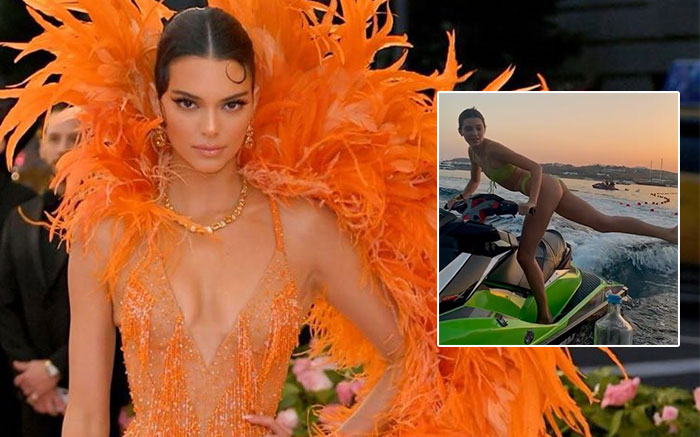 The Bottle Top Challenge has spread like wildfire with not only netizens even celebrities are hooked to it. Recently Justin Bieber's wife Hailey Baldwin challenged the American model and media personality Kendall Jenner. The Diva not only accepted it but added a new twist to the popular challenge.
Check out the video of Kendall Jenner completing the Bottle Top Challenge like a pro but with a twist:
In the slow-motion video, Kendall can be seen completing the challenge acing the watercraft in her green bikini and then riding away with a big wide smile. Jenner has perfectly lined her jet ski up with a waiting bottle and placed her leg at just the right angle to ensure the cap spun off. She even commented that she recovered the lid of the bottle and no debris was left in the sea.
Her video soon garnered more than 12 million times in just three hours.
Kendall is not the only one to be hit by the Bottle Challenge. Ellie Goulding too took up the challenge:
So did Justin Bieber:
His wife Hailey:
But a Chinese actor Zhao Wenzhuo, has completed the challenge in the most awesome way possible.
Chinese actor Zhao Wenzhuo takes on the #BottleCapChallenge and clears three bottles with one kick! 😱 https://t.co/hsSjk8T2S2 pic.twitter.com/SmwScKkDda

— Shanghaiist.com (@shanghaiist) July 6, 2019
Celebrities like Jason Statham, Akshay Kumar, Tiger Shroff and many more have aced the challenge. Have you done the same? Do share your videos.
Also Read: Security on high alert as Kendall Jenner's stalker vanishes