KUWTK 17: Khloe Kardashian gets a surprise diamond necklace and promise ring from ex Tristan Thompson
Khloe Kardashian receives a diamond necklace and promise ring from ex boyfriend Tristan Thompson.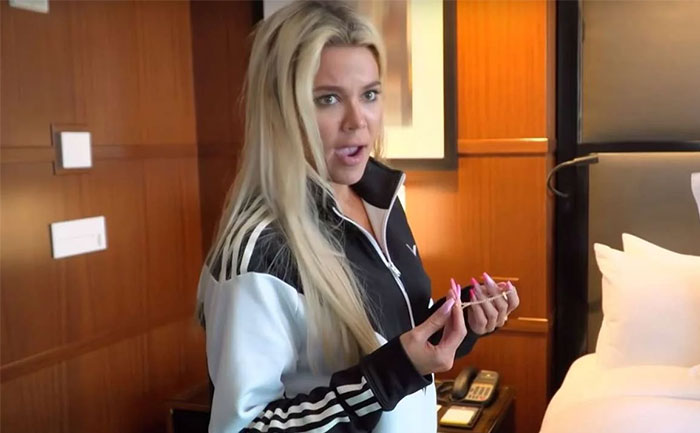 On Sunday's episode of Keeping Up With The Kardashian (KUWTK) season 17, American personality Khloe Kardashian received a surprise diamond necklace and promise ring ahead of her 35th birthday by ex-boyfriend and NBA player Tristan Thompson.
The ex-couple broke off earlier in February 2019 during Khloe's pregnancy itself as Tristan allegedly cheated on Khloe with her sister Kylie Jenner's former best friend, Jordyn Woods. The duo also share a kid named True and have been working hard on co-parenting their 1-year-old daughter.
As per a report in Entertainment Tonight, Khloe travelled to Connecticut for an event along with her friends Khadijah and Malika Haqq. As the trio enters the hotel, they find a gift box waiting on the bed, carrying a diamond necklace.
In a confessional interview, the Haqq sisters said, "Tristan reached out to see if we would help him get Khloe this gift, Of course, we said yes!"
Talking about the duo's situation, she said, "Lately Tristan has been telling me he's sorry and that he loves and appreciates me," she says. "But right now, the most I can handle is co-parenting. I really believe that Tristan wants more than that but that's not what I'm about."
Further, talking about the gift, she said, "I am conflicted as to if I should keep it or not because I just want to make sure there's no expectations, It's the sweetest kindest gesture, but that still doesn't mean, 'OK, a necklace is just gonna fix everything,"  Khloe said.
Khloe showed the ring to Kourtney's ex Scott Disick. Scott said, 'This is a promise ring,' 
Khloe says, "Tristan goes, 'This is a promise ring,' and I go, 'Promise to be nice to me as True's mom.' I was like, 'I really appreciate it. I don't think I can accept it.' He goes, 'Just think about it. It's yours.'"
"It looks fully like an engagement ring," Disick said.
At the end of the episode, Khloe spoke to her sisters and said that she does not want to be with Tristan, but she appreciates Tristan being nice.
ALSO READ: KUWTK Star Khloe Kardashian's Face Looks 'Unrecognisable' In THIS Pic