London: Protest held to highlight 'enforced disappearances' in Balochistan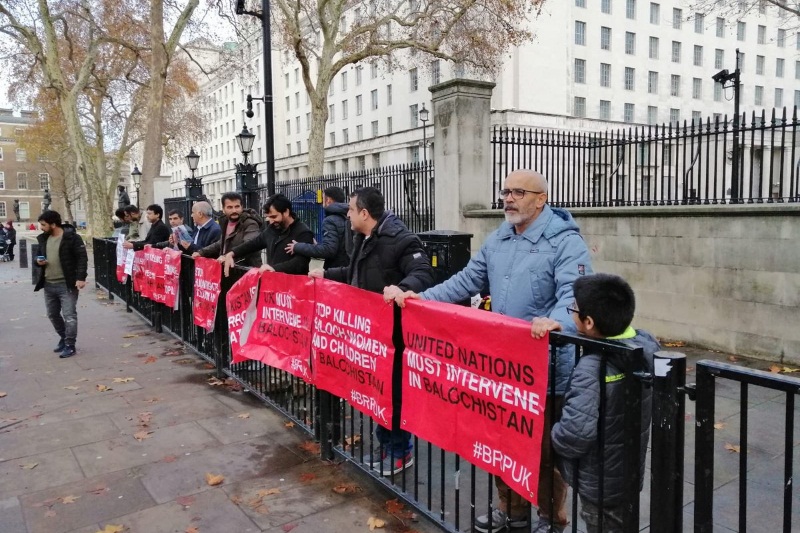 To highlight the incidents of enforced disappearances in the Balochistan region, the massive protest was carried out by Baloch Republican Party's (BRP) Germany unit on Sunday.
A large number of activists under the banner of Baloch Republican Party joined the demonstration to show their support for the struggles of the families of abducted Baloch activists.
Speaking to the news agency ANI, Jawad Baloch, the president of the BRP's Germany unit said, "Today we Baloch people from all over Germany gathered here to protest against the enforced disappearances in Pakistan, especially in the province Balochistan, where thousands of Baloch activists and students are missing."
"We are also here in solidarity with the relatives of the missing people, who are protesting in Quetta to release of their loved ones. We request the human rights organisations, the European Union, the country where we are living – Germany, to use their diplomatic relations with Pakistan to help release the missing Baloch people," he added.
#London: Baloch Republican Party held protest demonstration at the 10 Downing Street demanding safe release of #BalochMissingPersons. #EnforcedDisappearances #Balochistan pic.twitter.com/aIBMUWUZrI

— BRPبلوچ رپبلکن پارٹی (@BRP_MediaCell) December 2, 2018
Earlier on November 17, bringing Pakistan's apathy and human rights violation in 'light', Baloch students in Islamabad and Karachi carried out protests in solidarity with the families of missing persons.
It is to be noted that Pakistan shows itself as a 'victim of terrorism' but the actual victims are Sindhis, Baloch people and residents of Pok. All these people have been raising their voices against the apathy and human rights violation of Pakistani authorities in the country, as well as internationally since long, unfortunately, no one responded yet.
Also Read: Anti-Pakistan protests held across Balochistan