Matt Damon Reveals The Reason He Knows Every Word To Harry Styles Songs
Matt Damon Says He 'Knew Every Word to Every Song' at the Harry Styles Concert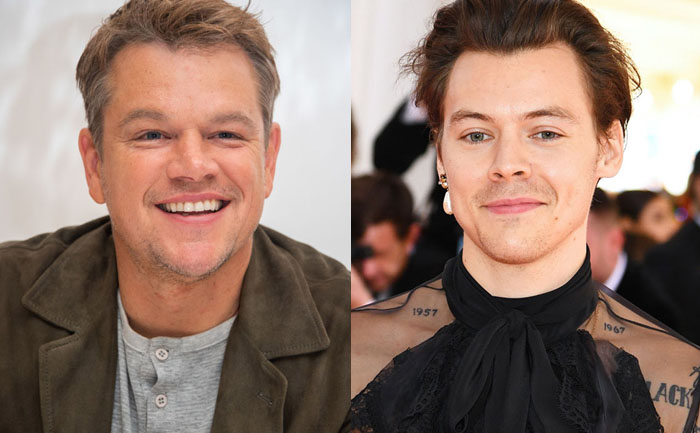 Hollywood actor Matt Damon recently attended a Harry Styles' concert at Madison Square Garden. The actor took along his three daughters: Stella, 10, Gia, 12, and Isabella, 15, to see the Adore You singer perform. Damon's daughters are huge fans of the actor.
In a recent interaction with People TV, Damon spoke about his experience at the concert. He said that he enjoyed the concert since he knew all the lyrics to Harry's songs.
Matt further added that his daughters love Harry Style. Therefore he heard all of the Styles' songs on loop during the lockdown. Listening to Styles songs on a loop in the lockdown helped Matt remember the lyrics.
Earlier this year during an interview with Tara Hitchcock, Damon said, "Last Christmas, we gave my 15-year-old a life-size cardboard cutout of Harry Styles. Harry Styles did a little video and said 'Hello' to her, and she lost her mind. I think that was the best we've done so far. I don't know how we'll top it."
He further added, "I am forever grateful to him. I really owe him one. I don't know how I would ever repay or what I could possibly repay with, but that was pretty cool."
On the work front, Matt Damon is looking forward to the release of his film The Last Duel. The film is directed by Ridley Scott and features Jodie Comer, Adam Driver, Matt Damon and Ben Affleck in pivotal roles. The Last Duel will release in theatres on October 15.
Also Read: The Last Duel Trailer: Matt Damon & Ben Affleck Reunite In Ridley Scott's Historical Epic