Mohena Kumari Singh gives befitting reply to a troll who asks about the ghoonghat
Mohena Kumari Singh gave an epic reply to a troll who questioned about her Ghoonghat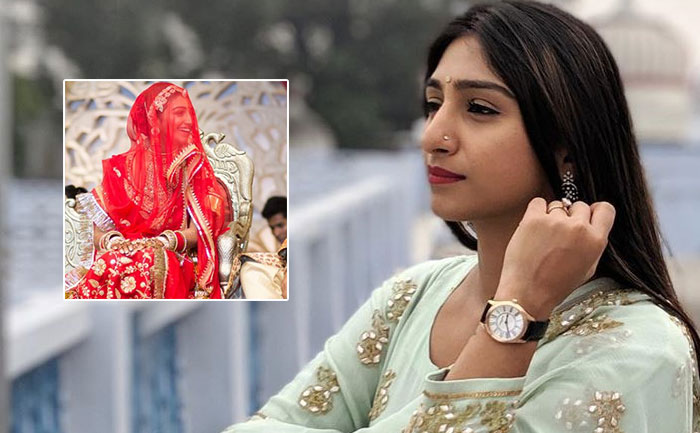 Mohena Kumari Singh who is popular for her role in Yeh Rishta Kya Kehlata Hai is living the best time of her life. In fact, the lovely actress got hitched last year on October 14 to Suyesh Rawat in a traditional Rajput ceremony in Haridwar. Also, their magnificent wedding was nothing less than a dream or a fairy tale. Moreover, she seems to be still grinning ear to ear and sharing her happiness with the world.
In addition to this, Mohena is very much active on the social media. Not only that, Mohena lately took to Instagram handle to share an inside picture from her wedding to wish everyone a 'Happy New Year'. It is the in the picture where Mohena was seen posing along with her in-laws and her face is concealed in a traditional 'ghoonghat'.
Furthermore, although it was a very sweet gesture but in no time, it turned out as a hot topic of discussion. What happened was that a user questioned her about getting her face covered under the big veil in spite of being an educated and modern woman.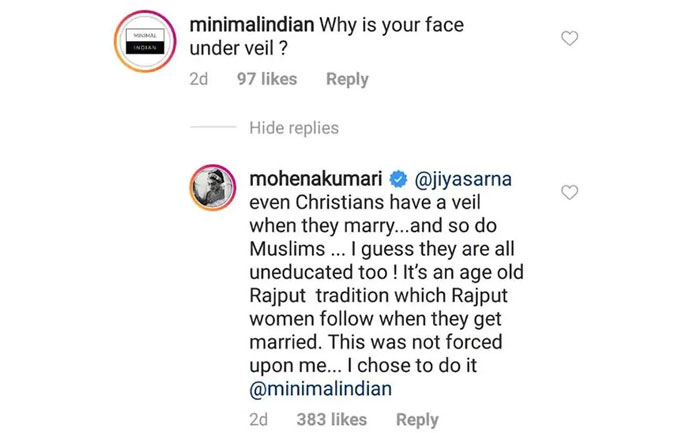 The troll commented, "Why is your face under veil?" To this question, another user replied, "Because these are people who follow the so called male dominated rituals. Even education doesn't get them a brain."
It was these nasty remarks which were insensitive and also was something that did not go down well with the gorgeous diva. Later on, Mohena decided to hit back and teach them a good lesson with a befitting reply.
Mohean retaliated to those comments and wrote, "Even Christians wear a veil when they get married and also Muslims do. I think they're all uneducated and illiterate too! It is an age-old Rajput tradition which women belonging to the tribe follow during their marriage. It was not at all forced upon me, I chose it willingly and stand by it."
Also Read: Pictures Inside: Mohena Kumari Singh Receives Royal Reception In Rewa