Mumbai rains updates: Local trains cancelled, waterlogged streets
Mumbai rains update: Water logging, Local train delays and traffic jams add to the Mumbaikar's woes today.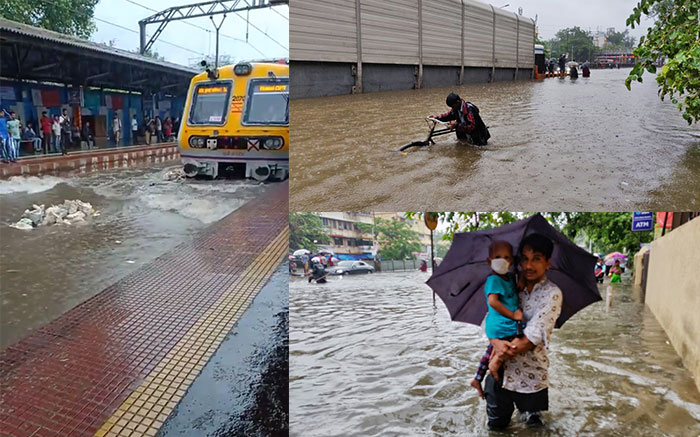 The monsoon has reached the city giving Mumbaikar's the much needed respite from the sweltering summer heat. But along with the cool weather we are also facing the bane of water-logging, traffic jams, trains being cancelled and many other issues. Mumbaikar's once again woke up to a wet Monday morning as rains continue to batter maximum city since Friday morning.
17:19 pm: Met department has warned of "extremely heavy" rainfall in adjoining areas of Thane and Palghar on 2,4 and 5 July.
13.10pm: Western Railways tweeted a list of trains rescheduled and changed for departure from originating stations due to heavy water logging on tracks at Palghar on Monday morning.
#WRUpdates. Passengers may kindly note further rescheduling / short termination & change in departing/originating station of trains due to heavy water logging on tracks at Palghar in morning hours. pic.twitter.com/5WBiuK2K06

— Western Railway (@WesternRly) July 1, 2019
12. 44 pm: Mumbai witnessed 93 mm of rainfall and Palghar area received 361 mm in the last 24 hours. General Manager of Western and Central Railways A K Gupta with senior officers has been constantly and closely supervising the situation from Mumbai Central Control Room.
There has been heavy rains in Mumbai (93 mm)& Palghar area (361 mm) in last 24 hours. Shri A K Gupta, GM, WR & CR alongwith Sr officers has been constantly & closely monitoring & supervising situation from Mumbai Central Control Room to keep the wheels of locals/trains rolling. pic.twitter.com/XrizvovuLW

— Western Railway (@WesternRly) July 1, 2019
12:25 pm: In view of the incessant rains and the high tide all efforts are being made by Western railways to man the subarban stations:
Check out their tweet here:
In view of incessant & heavy rains & high tide in Mumbai, all efforts are being made by WR @rpfwr1 & @rpfwrbct to man suburban stations & FOBs6for the safety of commuters. #SafetyFirst #mumbaimonsoon #MumbaiRain pic.twitter.com/Aon1kDItnN

— Western Railway (@WesternRly) July 1, 2019
12.6 pm: BEST buses have been diverted due to waterlogging at Sion road no 24, Hindmata Cinema, King Circle, Pratiksha Nagar, Sangam Nagar in Wadala, RCF colony in Chembur, Anushakti Nagar and SV Road in Bandra.
— kisna ~ (@kamleshfires) July 1, 2019
The city has been hit with heavy rains for the third consecutive day on Sunday. The intense rains have caused the problem of waterlogging in many low lying areas of the city. Office goers were stranded at the railway stations due to the waterlogging on the railway tracks that caused some trains to being cancelled or run late.
Avoid alighting at #LowerParel #station at all costs. It's flooded with ankle deep water right outside the station. #MumbaiRainsLive #MumbaiRains pic.twitter.com/sOAsuX2Q6O

— Rohit Bhatia (@rohitdb99) July 1, 2019
The Continuous downpour is taking a toll on office goers as areas like Kurla, Andheri, Bandra, Santa Cruz, Charni Road, BKC and others, has resulted in water logging on streets and railway tracks causing inconvenience to people. Several areas of Parel, Dadar and Chembur are still under the water. BMC has has diverted traffic in several areas to solve the issue of traffic jams.
Mumbai water rides @ Sion station🌧️ 😂.. #MumbaiRainsLive #MumbaiRains #Mumbai 🌧️🌧️ pic.twitter.com/Zuh9jmiKaO

— 💙Vidya Natarajan💛 (@VidyaN_18) July 1, 2019
Trains have been halted for nearly half an hour between Kurla and Sion as the tracks are submerged. Due to derailment of goods at Jambrung-Thakurwadi section, these trains have been cancelled
#MumbaiRainsWithMidday |
Few Trains from Borivali to Churchgate got cancelled between 8.30am to 9.30am.

For more #Live updates: https://t.co/BgSb7fp3sP pic.twitter.com/UEtjmUj0Lw

— mid-day (@mid_day) July 1, 2019
Mumbai has surpassed its required June rainfall by recording 515.1mm of rain—10.1mm which is above normal. According to IMD data, nearly 64.9% (327.7mm) of showers required in the month of June (505mm) was received in the last three days. Due to the rain over the last couple of days, the lake levels have risen by more than 10,000 million litres on Sunday, to 87,648 million litres.
According to private weather forecaster, Skymet, rains in the city are expected to get intense starting the night of July 3. Also, high tide has been predicted at 11:11 am with locals being warned not to venture anywhere close to the beaches.
Also Read: Mumbai rains live: City is surviving through heavy down pour