AMAs 2019: netizens congratulate BTS as they win the 'Tour of the Year' award
K-Pop band BTS receives the 'Tour Of The Year' award at the American Music Awards of 2019.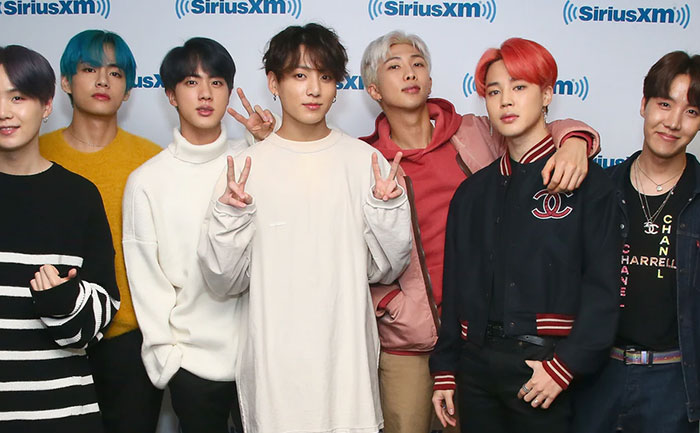 On October 24, the American Music Awards or AMAs' disclosed the list of this year's nominees, and the K-Pop boy band BTS was nominated for 'Tour of the Year' along with artists like Ariana Grande, Elton John, P!NK, and Ed Sheeran.
The South Korean band BTS held their world tour 'Love Yourself' and extension tour 'Love Yourself – Speak Yourself' this year and the BTS won the 'Tour of the Year' award at the 2019 American Music Awards. This is the second year that BTS is awarded at the '2019 AMAs'.
BTS WINS TOUR OF THE YEAR AT THE #AMAs ✨ @bts_bighit pic.twitter.com/zaa3TUMre0

— Columbia Records (@ColumbiaRecords) November 25, 2019
Netizens couldn't have been more proud of the BTS for their accomplishments. ARMY congratulated the boy band on Twitter for winning the Tour Of The Year award.
Check out the tweets below:
"The Most Successful Asian/Korean Act in History did that ??#AmericasBestGroupBTS #AMAsTNT ARMY @BTS_twt"
The Most Successful Asian/Korean Act in History did that ??#AmericasBestGroupBTS #AMAsTNT ARMY @BTS_twt pic.twitter.com/BGpytN79FN

— Musik ? Cult Member (@musik_for) November 25, 2019
"Congrats to BTS ?
?Tour of the Year
?Favorite Group – Pop
We are so proud of our boys, they work really hard ?
ARMY ? BTS #AmericasBestGroupBTS#AMAsTNT #AMAs2019 #AMAs"
[?] @BTS_twt

Congrats to BTS ?
?Tour of the Year
?Favorite Group – Pop

We are so proud of our boys, they work really hard ?
ARMY ? BTS #AmericasBestGroupBTS#AMAsTNT #AMAs2019 #AMAs pic.twitter.com/qC1CEl2rfQ

— ARMY PERÚ ??? (@ARMYPeru_twt) November 25, 2019
"Another well-deserved win! ?#AMAsTNT ARMY @BTS_twt #AmericasBestGroupBTS"
Another well-deserved win! ?#AMAsTNT ARMY @BTS_twt #AmericasBestGroupBTS pic.twitter.com/hAIkVqmqdK

— someone (@_nice_and_quiet) November 25, 2019
"yes and they deserve it #AMAsTNT ARMY @BTS_twt"
yes and they deserve it #AMAsTNT ARMY @BTS_twt

— Myriam (@Myriammarri) November 25, 2019
"Are we even surprised?"
Are we even surprised? pic.twitter.com/864Skb4Kvi

— Rosario♡ (@RosarioDonate) November 25, 2019
"Im so happy for our boys! …Now lets get them to Atlanta for a concert next year! ???? @BTS_twt @BigHitEnt"
Im so happy for our boys! …Now lets get them to Atlanta for a concert next year! ???? @BTS_twt @BigHitEnt

— Kimi (BTS come to Atlanta) (@kimirs15) November 25, 2019
"And our fav pop/rock group, and our fav social artist… @BTS_twt are just our favs! #AmericasBestGroupBTS"
And our fav pop/rock group, and our fav social artist… @BTS_twt are just our favs! #AmericasBestGroupBTS

— EMB ? (@is_RavingMad) November 25, 2019
Thanking their fans, a video message was played at the AMAs, which said, "Thank you so much. We are really honoured to receive such an important and meaningful award. BTS has been a group for six and a half years and, throughout those years, we've had so many of our dreams somehow manifest into reality and Army, you guys are the ones who make all this possible and we really couldn't have done it without your love and support from all over the world."
ALSO READ: BTS Sweep All Categories In AMAs 2019