No one is safe in Kashmir, say scholars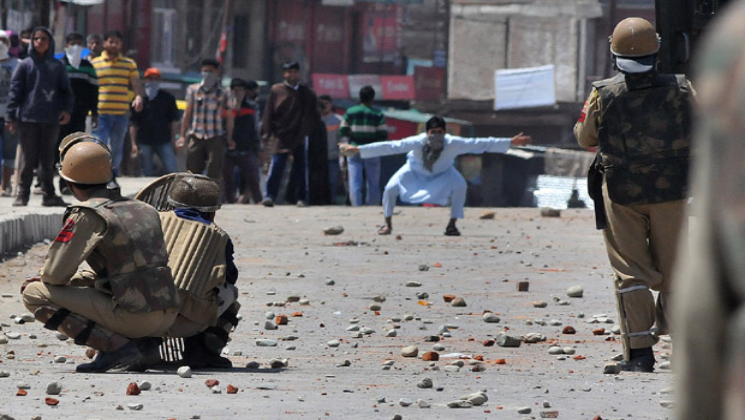 President Ramnath Kovind has imposed Governor's rule in Jammu and Kashmir on Wednesday, after the three-years-long alliance between the People's Democratic Party and Bharatiya Janata party came to an end. With this, the Kashmiris are of the opinion that the situation is very grim and 'no one is of safe in Kashmir'.
Citing reasons of lack of development in Jammu and Ladakh region, with the growth in militant activities, BJP parted its ways, but the academicians have called it an eyewash to disassociate with PDP, just before the General Elections 2019.
Speaking to this reporter on the present condition of the valley, College lecturer at Government Women's College in Baramulla, Meer Rehmat, stated that 'no one is safe in Kashmir'. He said, "In Kashmir, it's kind of Civil war. In 2006 peace was there, people use to come out at 11 pm. But now even 6 pm is very late for us."
Also Read: Major Gen GD Bakshi to become next Governor of Kashmir
'Shujaat, Aurangzed – not the first case'
Rehmat, while condemning the recent killing of famous journalist Shujaat Bukhari said, "There are thousands of people who have been killed by unidentified 'terrorists', Shujaat and Aurangzeb were not the only one." He also favoured on the peace dialogue with all stakeholders,  which according to him, Bukhari supported.
The case of stone pelters have been on the rise in the valley since 2014. Not only the youths, even the kids and even women (sometime ago) were seen throwing stones at security personnel. Stating his opinion, Khalid Bin-Ali, a government high school teacher in Baramulla opined that this is due to the humiliation and torture which might have forced the people to take this step.
Ali said, "Kashmiris have been suffering since 1947. If one wants to understand the situation in Kashmir, he/she should read the history of valley. The anger is against the state governments' political regimes, which had thugged  the people with false promises since decades. These stone pelters are not illiterate mass, they are intellectuals. They are the only people who  help rescue Indian Army personnel, when their vehicle falls into gauge."
Also Read: 'Hum-Tum' episode between PDP-BJP ends
Grim Situation
Both the scholars were of the opinion that the situation in the valley is grim and its only the effective dialogue between all stakeholders, including leaders from Hurriyat Conference, which can initiate the peace talks.
Rehmat said, "For every action there is an opposite and equal reaction." He commented on stone pelters, who according to him, feel alienated from the states. He added, "Sometime ago, youths and kids were stopped and their mobiles were checked. So the anger came out." Supporting similar views, Ali too stated, "Youths in Kashmir are looking for employment, they are educated and believe in peace."
I remember Ali saying to me seven years ago, "Kashmir me koi aisa nahi jo pita na ho" (there is no one left in Kashmir who had not been tortured). Blaming the harassment on Kashmiri youth by the security forces, Ali quoted that prior to earlier times, people in the valley have no fear of death. "They have suffered enough since 1990s and now they even dare security personnel. This is their frustration that is perhaps coming out."
Also Read: BJP-PDP honeymoon ends for 'untenable' Relationship
Governor's Rule
Governor N N Vohra is perhaps the only person  being loved by all the sections of valley – separatists, pro Kashmiris, and pro Indians. With BJP saying sayonara to the PDP, people are saying that this is 'Eid' for them.
"Shukr hai hukumat gir gayi" (thank god the government collapsed). This was the first tine Rehmat spoke when asked his opinion on BJP-PDP parting ways. Rehmat said, "The situation is same as 2005 here as it is now. Waise bhi aag aur petrol ek saath nahi reh sakte (Fire and petrol cannot go together). This was expected. Why did they do coalition? They both have separate ideologies. PDP believes in dialogue and BJP is against it."
Taking a jibe at the recent breakup, Ali said that PDP has become irrelevant in the state. "PDP ki naiya dub gayi hai. Aur isi ke saath political parties ki Eid ho gayi. Political parties fasal katne ko taiyaar hai. Waise bhi Kashmir me Muscular party nahi chalti" (PDP's boat has drowned. And with this, it's an Eid for political parties. They are ready to reap the benefits. And Muscular party cannot continue in the state).
Quotes' Refusal
On one side the two scholars have agreed to speak to the reporter on the conditions of Kashmir, other expressed sorry as they are employed in the government offices, which restricts them to go give a quote against the government.
However, when this reporter tried to speak to senior police officer, he declined to comment on any issue as the murder of Aurangzeb did not take place in his jurisdiction. Calls of other officials too were not answered.
What Next?
Five incidents – Aurangzeb's murder, Bukhari's murder, Operation allout, PDP-BJP breakup and Governor's rule – all taking place in a period of 10 days, have not only speculated the Union's plan to take over Kashmir by force, but also, set their agenda for the upcoming General Elections in 2019.
Kashmiris have stated that what they want is peace to return to the valley and youth get employment. It would interesting to see how things unfold in the upcoming times.
Photo Credit: The Rising Kashmir