#MeToo: I am not afraid anymore, says Vinta Nanda while thanking supporters on Facebook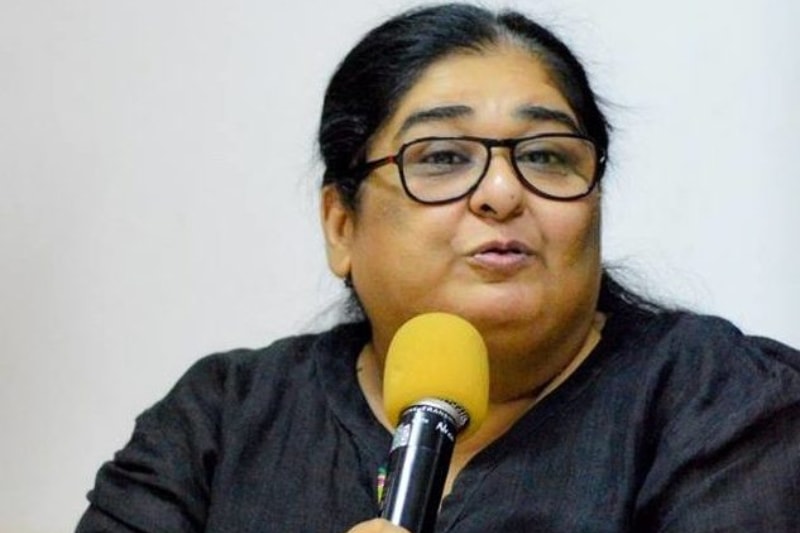 TV writer-producer Vinta Nanda who had accused actor Alok Nath of sexual misconduct and harassment has thanked the Indian media and all those who supported her as she revealed this incident which happened over two decades ago. This revelation follows similar ones under the banner of #MeToo movement that has been running wild on social media for the past few days.
In a post on Facebook on October 8, Nanda wrote about her harrowing experience which she had with Alok Nath on the sets. She also accused the actor of doing the same with Navneet Nishan.
Taking to Facebook once again, Nanda thanked CINTAA, IFTDA, Producer's Guild, Screenwriter's Association and actors Tanushree Dutta, Sandhya Mridul, Deepika Amin, Navneet Nishan and Ameeta Nangia, adding that she "wasn't afraid anymore".
"I wrote a post two days ago in which I had released the anguish and trauma, that I was carrying on my back for over 19 years. I have to say a very big thank you to all of you who have supported me absolutely and unequivocally. I'm grateful and fortunate. Other than my close friends and family of course, I am wealthier today by about another 1000 friends at least, who I have now added to my list.
I wrote what I did on impulse because I felt the 'now-or-never' moment and about 12 hours later, when I woke up the next morning, I realised that it had turned into a discussion that was taking place nationally. It was for the first time in my life, that my world had been taken over and I was flooded with calls and messages, many from unknown quarters, which I just couldn't ignore. By about 11am on the 9th October I didn't know what to do.
Also read: #MeToo: Alok Nath is afraid, I am feeling liberated now, says Vinta Nanda
I called Naarad Anusha Srinivasan Iyer and requested her to come over to my office as soon as she could. I handed my phone to Devki Bhalla and asked her to direct every call as well as message that came from the media to talk to Anusha. I had the whole Indian media stationed in my office for the rest of the day and by about 2pm I was overwhelmed. I couldn't believe what was happening.
I thank the #IndianMedia for propelling the #MeToo movement forward relentlessly and for having brought it to a place where I as well as so many others have found our voices. You heard us and because of you, the world heard us as well. Anusha and her team took care of everything. After two press conferences and many live telecasts thrown in, I was finally done by 1030pm last night. It was no different today, but it was slightly more sane that it had been yesterday. Every single person was very kind barring a couple who probed and questioned me with doubt, wanting to push me into admitting, that what I had done was for some ulterior motive.
I spoke from my heart, recounting the series of events, that had taken place over and over again, exhausting myself to a great extent but also realising how with every minute that was passing, I was changing as a person. I was not nervous and I am not afraid anymore. All my hesitation had vanished into thin air.
I had been imprisoned by the conspiracy of silence for almost twenty years and suddenly, I was released from captivity and I was free. I've been through a mega catharsis over the last two days and it is over now.
I'm disarmed and don't feel the need to defend myself anymore. I have to get used to living without pain, but that's not going to be as difficult as it had been for me to learn to live with it, over the last so many years. It's going to take me days and weeks to look back into archives to see what I have spoken to whom in the last two days, but that's fine.
Also read: #MeToo:  Actress Sandhya Mridul accuses Alok Nath of sexual harassment
I salute Cintaa I thank the whole team at CINTAA. If it wasn't for Sushaant Singh Amit Behl Odie Khan Deepak Qazir Kejriwal Ravi Jhankal and the team there, I would not have found the strength to speak out. I am grateful to Tanushree Datta for having galvanised the #MeToo movement with her honesty and courage.
I gained power from it and therefore I came out. I still can't believe what has happened thereafter. Even Ashoke Pandit offered the support of #IFTDA and that is something, I would say. The #ProducersGuildOfIndia has set up a committee today, which will look into all matters concerning women and create an enabling environment for each and every person in the workforces. The #ScreenWritersAssociation has pledged its tacit support to every writer who feels threat. Above everything else I want to share the joy that I feel today with Sandhya Mridul, Deepika Deshpande Amin and the many others who spoke up and shared their horrific experiences. My heroes, Navniit Nisshan Ameeta Nangia Grusha are such amazing people," read her post on Facebook.
Nanda's revelation led to other women in actors Sandhya Mridul and Deepika Amin revealing their experiences of sexual abuse by Alok Nath.
In the meantime, Nanda's and allegations by other women have been named as part of a, "planned conspiracy" by Alok Nath's lawyer, Ashok Sarogi, who also stated that the actor is planning to file defamation suits against them.
Image credit- Nation Next