Numerological Predictions for the week ( October 16 To October 22, 2020 ) by Celebrity Numerologist Hirav Shah
Here are the Numerology Predictions from Astro Strategist, Business Astrologer and Celebrity Numerologist Hirav Shah for the week ( October 16 To October 22, 2020 )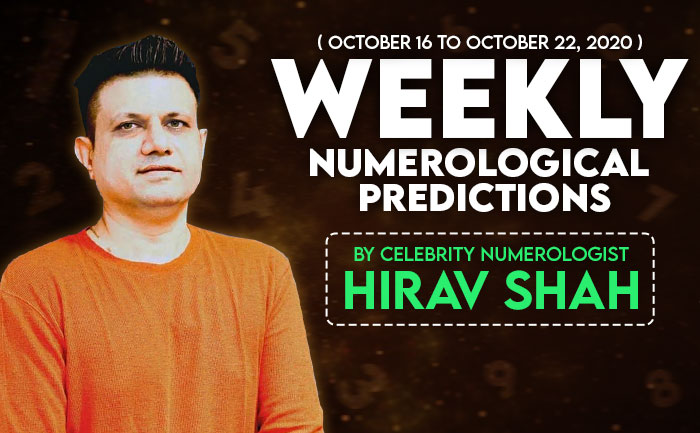 Numerology is a study of numbers in your life. By calculating certain numbers (typically birth names and birthdates are the primary numbers calculated), one may get a clearer picture of themselves. As an element of astrology and fortune-telling, numerology has long been employed to predict future events. World-Renowned Astro Strategist, Business Astrologer and Celebrity Numerologist Hirav Shah is here with most accurate Numerological predictions for the week ( October 16 To October 22, 2020 ) as per your birth date.
Check out the weekly predictions( October 16 To October 22, 2020 ) here:
1. Number 1 (SUN): Those born on the 1st, 10th, 19th and 28th in any month
This is the time to go ahead and grab that object of your desire as you could be successful. This period may also bring you your share of fame and recognition in the society. You may enter into new contracts or agreements towards the end of the week. You would also be able to gain over your enemies and make new friends. Health would remain good and you would enjoy the comfort of a disease-free body.
Avoid wearing Silver colour
Lucky Days: Wednesday
Lucky Colour: Cream
2. Number 2 (MOON): Those born on the 2nd, 11th, 20th and 29th in any month
This period mostly signifies happiness and success in your endeavours. Financially also this could be a good time for you. You could expect gains in your venture and may also be able to recover your stuck up money during this period. If you are planning to buy a vehicle, well, this could be the time for it. You may face some joint pain issues.
Avoid wearing Pink colour
Lucky Days: Friday
Lucky Colour: Yellow
3.  Number 3 (JUPITER): Those born on the 3rd, 12th, 21st and 30th in any month
This period portends trouble and obstacles in your everyday life. This period may bring along peril and untoward happenings. Monetarily also this period may prove to be challenging. You could find difficulty in recovering your dues and close favourable and profitable deals. Maintain a cordial relationship with your employer and seniors at the workplace Avoid any disagreements with them. Health should remain fine during this time.
Avoid wearing Light Green colour
Lucky Days: Sunday
Lucky Colour: Sky Blue
4. Number 4 (URANUS): Those born on the 4th, 13th, 22nd and 31st in any month
During this period, you may have to work harder than usual in your workplace or trade. Mentally you may feel tired and may also become lethargic. However, there is also a silver lining to it as you would successfully perform some religious work and would also actively participate in charity related work. You are also likely to gain fame in society. Take care of your health as you are susceptible to develop problems in the digestive as well as the respiratory system
Avoid wearing Orange colour
Lucky Days: Monday
Lucky Colour: Dark Green
5. Number 5 (MERCURY): Those born on the 5th, 14th and 23rd in any month
If you were planning to start something new, this could be the time to do so as this period assures you success in all your endeavours. As this period would be favourable for you, You and your family would generally be happy and content. This is a good time in your workplace as well. You may expect honour, promotion and appreciation at the workplace. Be cautious with your health.
Avoid wearing Yellow colour
Lucky Days: Tuesday
Lucky Colour: Navy Blue
6.  Number 6 (VENUS): Those born on the 6th, 15th and 24th in any month
This period would see your finance going through a rough period. Expenses may increase. Take care of your riches as you are susceptible to losing something valuable. Avoid doing anything that may create a hole in your wallet. Be careful with your endeavour as you may not get the desired result. Health may need attention. Take care of your eyes as they are susceptible to infections, particularly during this phase
Avoid wearing Golden colour
Lucky Days: Saturday
Lucky Colour: Maroon
7. Number 7 (NEPTUNE): Those born on the 7th, 16th and 25th in any month
This period would help you increase your income and gain riches. If you deal in agriculture, Share Market or Real Estate, you may see more produce than usual. On the more personal front, this period brings you joy, happiness and good times with people around you. Family reunions and getting together of old friends is also likely during this time. Health will be fine. Mentally also you would feel much happy and relaxed during this time.
Avoid wearing Gray colour
Lucky Days: Thursday
Lucky Colour: White
8. Number 8 (SATURN): Those born on the 8th, 17th and 26th in any month
Businessmen will find this period to be a smooth one with satisfactory profits. Success in education is also indicated during this time. At home, your siblings would be more cooperative and affectionate than ever. Some auspicious deeds are likely to be performed at your home and you may also decide on your own marriage if eligible. Health would remain in good shape.
Avoid wearing Brown colour
Lucky Days: Friday
Lucky Colour: Yellow
9. Number 9 (MARS): Those born on the 9th, 18th and 27th in any month
Be careful with finances, as there is a tendency to lose wealth in these few days. Keep an eye on your expenditures as you may get tempted to spend unnecessarily. Be extra careful while dealing with people during these days. Carefully guard any mental tendencies to act out of frustration or stress, as this may backfire on your reputation. Obstacles in your workplace may come up but stick on, as these are of temporary nature. Meditation will help you to remain more relaxed.
Avoid wearing Black colour
Lucky Days: Sunday
Lucky Colour: Purple
Celebrities of the week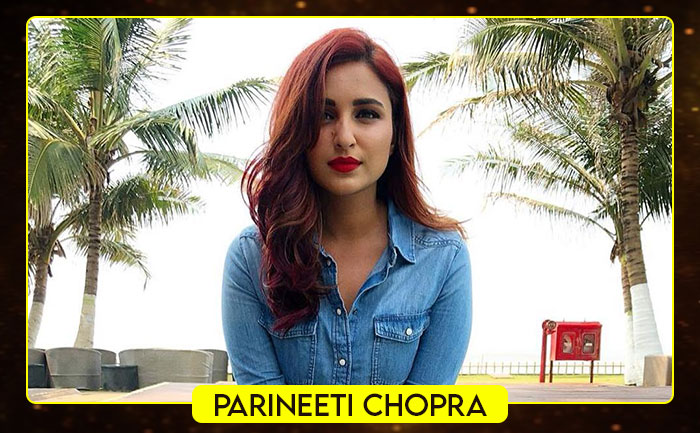 October 16 – Hema Malini
October 17 – Simi Garewal
October 18 – Frieda Pinto
October 19 – Sunny Deol
October 20 – Nargis Fakhri
October 22 – Parineeti Chopra
Also Read:  Hirav Shah: 4 Advantageous Astrology Time Periods To Sell Unsold Property Post Lockdown