Watch: OnePlus 7 Pro Pop Up Camera Durability Drop Test! Will It Survive?
OnePlus 7 Pro Pop Up Camera Durability Drop Test Is Here: Watch Video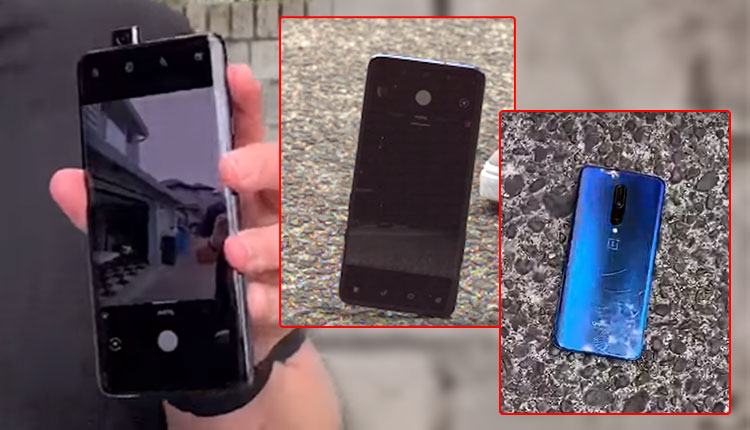 OnePlus has recently launched its new smartphones OnePlus 7 or OnePlus 7 Pro and OnePlus 7 Pro 5G. It is to be noted that this latest smartphone marks the company's debut into the ultra-premium space. Yes, the phone has been in the news for many reasons such as its strong procedure Qualcomm's Snapdragon 855, UFS 3.0 storage and 16-megapixel pop-up selfie camera.
In this article, we will take a look at OnePlus 7 Pro pop-up Selfie camera durability drop test and find out will it survive or not?
OnePlus has shared two videos on the internet showing that OnePlus 7 Pro camera can easily last up to 300,000 movements. At the launch event, the company claimed and showed us that OnePlus 7 Pro's camera detects when it is dropped and automatically retract the pop-up selfie camera if it is not is use. You will get almost all the answers in this article such as:  Should you ditch your regular camera for this pop-up camera or will the camera break if you dropped the phone? Robert Downey Jr Replaces Amitabh Bachchan As Brand Ambassador Of OnePlus
Yes, It has a free-fall sensor and below is the video showcases how OnePlus 7 Pro's sensor works. You will see how much time does the camera take to retract and does it retract fully before phone hitting the surface? The OnePlus 7 Pro pop-up selfie camera durability drop test was conducted by popular YouTube Channel GizmoSlip. The man featured in the video leaves no stone unturned to smash the phone dropping it from multiple angles.
You can see in the video, OnePlus 7 Pro is being dropped from low to high heights twice. The phone appears to have received scratches but does not stop working. But, you can notice that the free-fall sensor that the company claimed that it will detect fall does not seem to work properly in the test.
When OnePlus 7 Pro was dropped from the side angle, the pop-up camera once again fail to detect the fall but it is still working. When it is dropped from the backside, the glass cover of the phone badly hit but the phone still looks pretty impressive. Despite having dropped so many times, it in-display fingerprint sensor and camera do not stop working.
When the phone was dropped from the screen (display) side, it was badly damaged and its in-display fingerprint sensor almost stopped working. However, the pop-up camera does not stop working, and it is the last feature alive during OnePlus 7 pop-up camera durability test.
Finally, it took five drops and two smashes to break the pop-up camera. You can watch the video below:
Watch – OnePlus 7 Pro Pop-up Camera Durability Drop Test