Palghar Lynching: 3 men, including 2 Sadhus lynched, police arrest 110 people
Three Men Lynched in Maharashtra, Two from Nomadic Tribe; Maharashtra govt orders high-level probe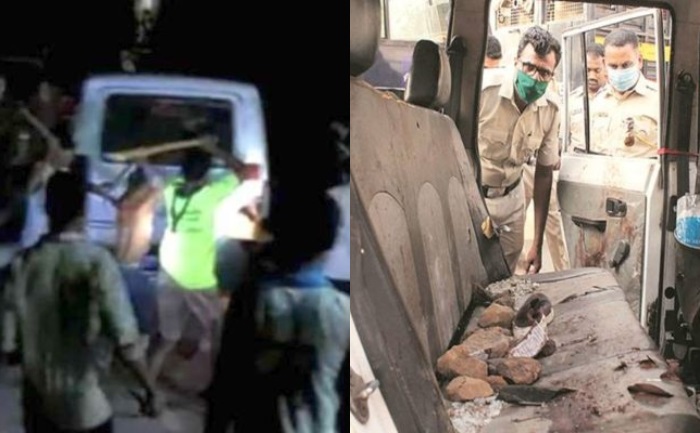 In a shocking incident, three people, including 2 sadhus, were lynched to death on suspicion of theft in Gadchinchale village of Palghar in Mumbai. The incident occurred when the three men from Kandivali in Mumbai were headed towards Surat in a car to attend a funeral on Thursday night. Their car was stopped in Palghar and the mob dragged the trio and beat them to death on suspicion that they were thieves.
एक वृद्ध साधु वर्दी से उम्मीद लगाए पीछे छिपे। तो उसने खुद उन्हें भीड़ को सौंप दिया! 'चोर समझकर' मारने वाली पूरी रिपोर्ट मनगढ़ंत दिख रही है। ये विडियो तो प्रायोजित हत्या का है। https://t.co/HwnUymAE6L

— Sweta Singh (@SwetaSinghAT) April 19, 2020
The deceased were identified as Chikne Maharaj Kalpavrukshagiri (70), Sushilgiri Maharaj (35), and their car driver Nilesh Telgade (30).
Maharashtra Chief Minister Uddhav Thackeray on Sunday night said that culprits involved in lynching of three men in Palghar district will be brought to justice.
Former Maharashtra chief minister Devendra Fadnavis condemned the attack and demanded a "high-level committee" be set up immediately to investigate the incident.
Maharashtra: 3 people lynched on suspicion of theft in Gadchinchle village of Palghar. Kailas Shinde, Collector says, "They were declared brought dead at the hospital. About 110 villagers have been brought to police stations for questioning. Further probe underway". (17.4.20) pic.twitter.com/A7rWWwPSqX

— ANI (@ANI) April 18, 2020
The trio, including a 70-year-old man, was attacked based on the rumours that they were involved in the abduction of children to harvest organs, including kidneys. The Palghar police have arrested 110 people in connection with the incident. Of these, 9 persons are juvenile. The adult accused have been remanded in police custody till April 30. The juveniles have been sent to a children's home.
Also Read: 7 Dead in Blast at Chemical Factory in Maharashtra's Palghar