Parliamentarian Shri Ram Gopal Yadav goes unparliamentary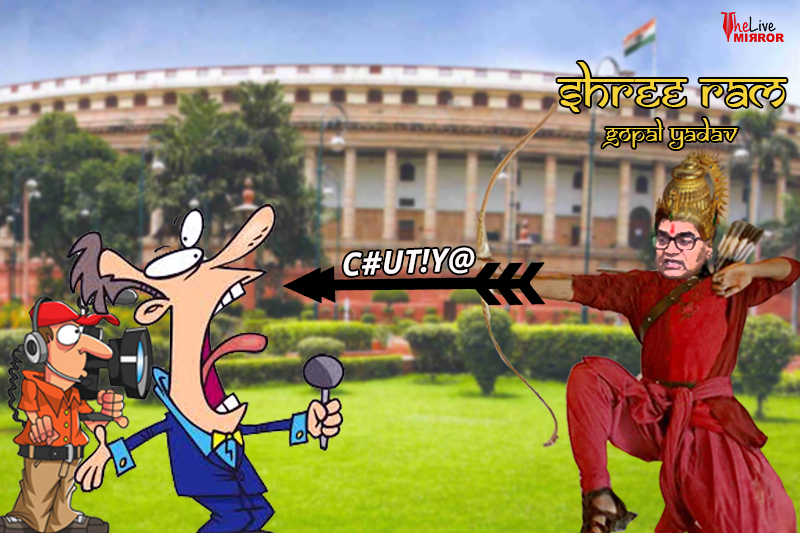 We have seen politicians who are motormouth, politicians who are outspoken, who are corrupt and politicians who do not lose the opportunity to steep low on comments. But, among all of them, Samajwadi Party's Rajya Sabha MP Ram Gopal Yadav exceeds all expectations and has dared to use a cuss word, "CH***YA", in the Parliament premises, when asked on his party's stand on 'No-Confidence Motion' in the ongoing Monsoon Session of the Parliament by a video journalist on Wednesday.
The senior leader representing the Samajwadi Party, which reduced to a minuscule amount in the Parliament post 2014 Lok Sabha elections, is among the respected ones in the country. Cuss words from a parliamentarian like Ram Gopal Yadav is not only shocking, but unacceptable.
Though, it is not the first time that weird behavioural pattern and untoward comments of lawmakers have made the days of newsroom, but Ram Gopal Yadav making irrelevant comments at the journalist is disgusting and needs an apology. We can imagine that a person might not like if similar questions being asked to him or her, but who gives the person an authority to humiliate another human being in public?
Just to clear, the SP leader had said, "Roj Puchte Ho Bata Dijiye, Nai Batayenge. Bilkul CH***YA Samajhte Ho Kya Hum Logo Ko (You people ask daily. I won't answer. Do you think we are 'morons'?)."
 Here is the video for more details: 
#WATCH Samajwadi Party MP Ram Gopal Yadav on being asked about party's stand on #NoConfidenceMotion, uses a cuss word. pic.twitter.com/R9AhlU2hhQ

— ANI (@ANI) July 19, 2018