PM Modi can't stop thinking of football in Argentina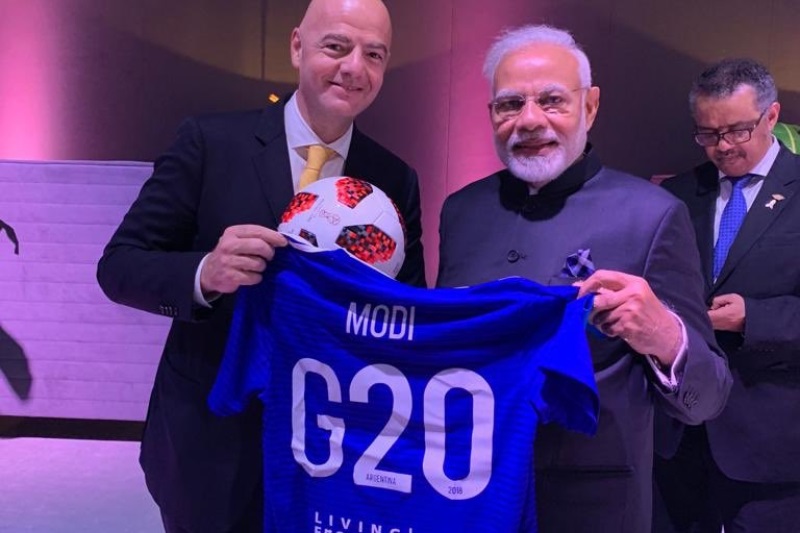 If the Boca Juniors-River Plate saga showed the evil side of football in Argentina, it also exhibited the nation's love for the game. Blessed with footballing gods such as Diego Maradona and Lionel Messi – two of the most loved football stars worldwide – Argentina enjoys a sacred place in football's holy bible.
Thousands of kilometres away in India, Maradona and Messi are as much revered as the players of the subcontinent are. And so when India Prime Minister Narendra Modi visited Buenos Aires – the capital of Argentina – for the 13th Global G20 summit, he couldn't stop 'thinking about football.'
"Argentinian players are tremendously popular in India," wrote the prime minister while displaying the football jersey gifted to him by FIFA president Gianni Infantino.
Impossible to come to Argentina and not think about football. Argentinian players are tremendously popular in India.

Today, received this jersey from @FIFAcom President Gianni Infantino. I thank him for the kind gesture. pic.twitter.com/6IszG7fyFC

— Narendra Modi (@narendramodi) December 1, 2018

But one would be wrong in guessing that that was the end of 'football topic' at the global summit.
Later addressing the congregation at the 'Yoga for Peace' event, Modi once again picked football to explain how the sport links Argentina to India.
"If Argentina is interested in India's philosophy, art, music and dance, there are millions of fans of the Argentine football stars in India. Maradona's name is used as a proverb in India," he was quoted as saying by NDTV.
The South American nation has indeed enjoyed a special status among the fans in India. Argentina was one of the first top-ranked footballing nations to come to India and play in front of the country's crazy football fans. They faced Venezuela in a friendly tie at Kolkata in 2011 and although Messi failed to score, it was his flag-kick that decided the outcome of the match with defender Nicolas Otamendi heading the ball into the net to bring up the victory.
Another Argentine legend Diego Maradona has also visited India a couple of times. Most recently the football king came to Kolkata last year, where he also took part in a celebrity football match alongside former India cricket captain Sourav Ganguly.
Also Read: India to host G20 summit in 2022, the nation's 75th year of Independence