Gudi Padwa 2019: Here Are Wishes, HD Images, GIF, Greetings For The Marathi New Year
Gudi Padwa 2019 Images: Here is everything from WhatsApp Messages, Greetings, GIF Images and Wishes for the Marathi New Year 2019.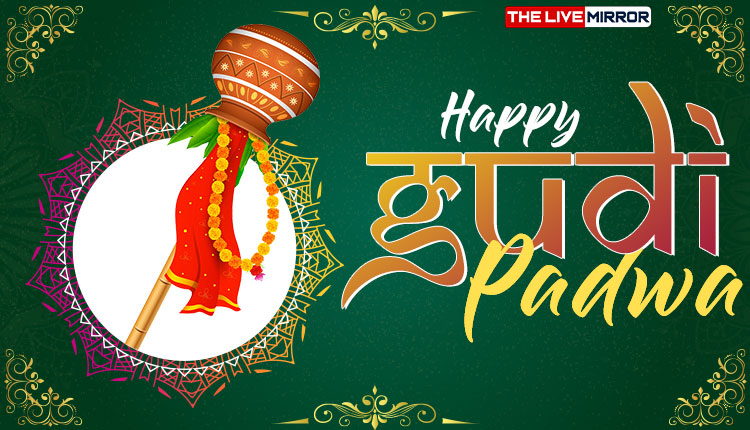 After Holi, we are just a few hours away to celebrate yet another festival Gudi Padwa 2019, which marks the traditional new year for Marathi Hindus. Yes, Gudi Padwa is basically celebrated by people living in Maharashtra or near Maharashtra on the first day of Chaitra month. The festival is celebrated with colourful floor decorations, street processions and festive foods. It will be observed on April 6 this year.
As Gudi Padwa which is also spelt as Gudi Padva is around the corner and preparation for the same is in full swing. On the occasion of this festival, we wish our friends, family members and loved one by sending them Gudi Padwa images, Gudi Padaw GIF messages, Gudi Padwa greeting and WhatsApp stickers on WhatsApp and other social media platforms such as Facebook. (Also Read: Gudi Padwa 2019: How To Celebrate Marathi New Year And Make Gudi At Home)
On the occasion of Gudi Padwa , you will see Maharashtrian family come together welcoming the New Year Day. One of the key element of this festival is the hoisting of a colourful silk banner on bamboo and topped with an upturned drinking pot. It is then decorated with a garland of flowers and mango leaves.
Since Gudi Padwa 2019 will be celebrated tomorrow on April 6. We have brought you Gudi Padwa greetings, Gudi Padaw GIF messages, Gudi Padwa wishes in Marathi, Gudi Padwa Images,  Gudi Padwa WhatsApp and social media messages to make 2019 Marathi New Year more wonderful.
2019 Gudi Padwa (Ugadi) Wishes in English
May the flavour of raw mangoes, raw neem, and jaggery remove all bitterness and add sweet flavours to your life.
Wishing this Gudi Padwa bring countless joys, new hopes and may your life be endowed with satisfaction.
Wishing you love of love on the auspicious occasion of Gudi Padwa. Have lots of fun with your family and friends.
May the festival of lights be the harbinger of joy and prosperity. As the holy occasion of Gudi Padwa is here and the atmosphere is filled with the spirit of mirth and love, here's hoping this festival of beauty.
This Gudi Padwa may you be blessed with good fortune as long as Ganeshji's trunk wealth and prosperity as big as his stomach happiness as sweet as his ladoos and may your trouble be as small as his mouse. Happy Gudi Padwa.
2019 Gudi Padwa (Ugadi) Wishes in Marathi:
गुढी प्रोमाची उभरूया मानी औचित्य शुभमुहूर्ताचे करुनी। .. विसरूनी जाऊ दुःख सारे स्वागत कार्य नववर्षाचे प्रेमभरे।
नाक्षरीदार काठीवरी रेशमी वस्त्र , त्याच्यावर चांदीचा लोटा , उभरूनी मराठी मनाची गुढी , साजरा करुया हा गुड़ी पडवा ! नूतन वर्षाच्या हार्दिक शुभेच्छा ! हेप्पी गुढी पाडवा.
वर्षामागून वर्ष जाती, बेत मनीचे तसेच राहती, नव्या वर्षी नव्या भेटी, नव्या क्षणाशी नवी नाती, नवी पहाट तुमच्यासाठी,
शुभेच्छांची गाणी गाती! Happy Gudi Padwa
चंदनाच्या काठीवर, शोभे सोन्याचा करा, साखरेची गाठी आणि, कडुलिंबाचा तुरा, मंगलमय गुढी, ल्याली भरजरी खण
स्ने्हाने साजरा, करा पाडव्याचा सण.
Suru Hot Aahe Navin Varsh, Manat Asudya Nehami Harsh. Yenara Navin Divas Karel Navya Vicharana Sparsh.
Surya Toch, Parva Nave, Shabd Tech Varsh Nave, Ayushya Tech, Arth Nave, Yashache Suru Hovo Kiran Nave
2019 Gudi Padwa (Ugadi) Wishes in Hindi:
Khushian ho overflow
Masti kabhi na ho low
Dosti ka surur chaya rahe
Dhan aur Shorat ki ho bauchar
aisa aye apke liye Gudi Padva ka tyohar!
Hindu Nav Varshachya Aani Gudi
Padvyachya Hardik Shubecha.
Naxidar kathivari Reshmi vastr,
Tyachyavar ch&icha lota,
ubharuni Marathi manachi GUDHI,
Sajra karuya ha Gudi Padwa!
Nutan Varshachya Hardik Shubheccha
Junya dukkhanna maage sodun
Swagat kara nav varshache
Gudi Padwa gheun yeto kshan
Pragati ani harshache
Padwyachya hardik shubheccha.
Swagat nav varshache.
Asha aakankshache.
Sukh samruddhiche, padata dwari paaul Gudhiche….
HD Gudi Padwa (Ugadi) 2019 Images Download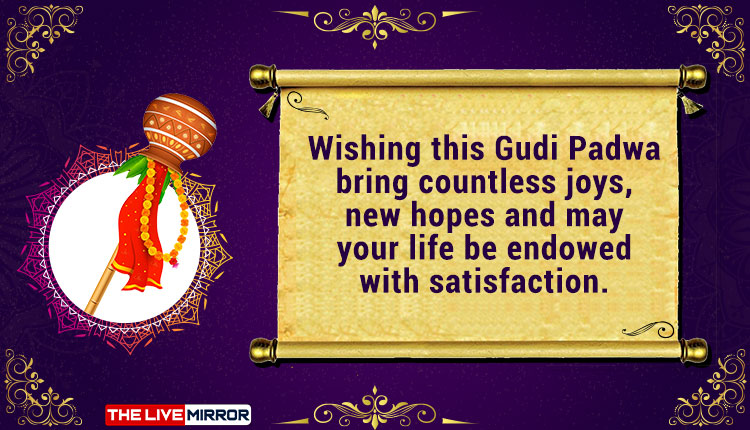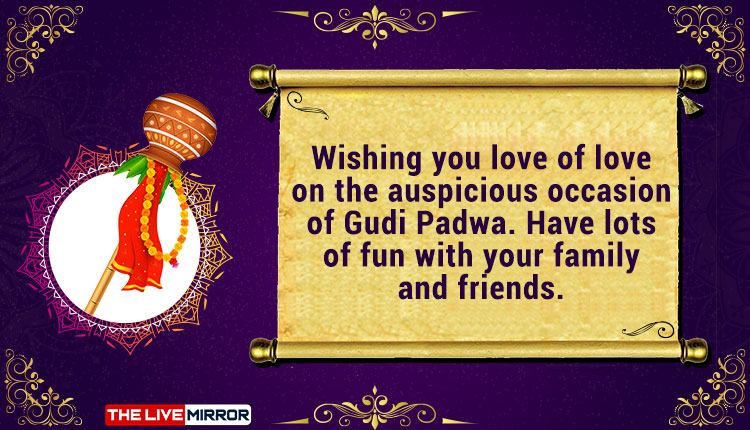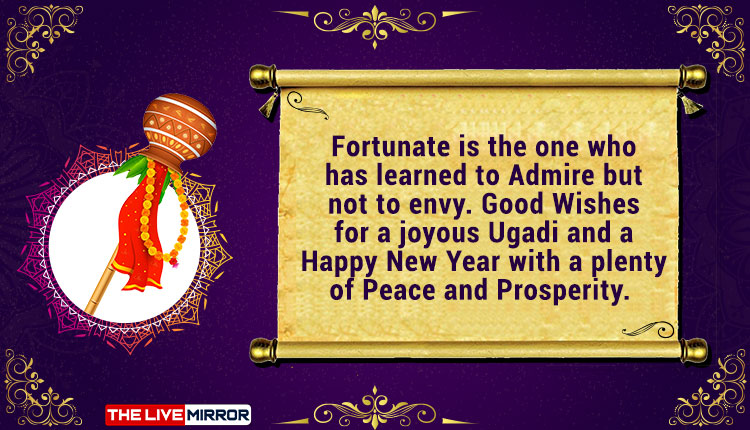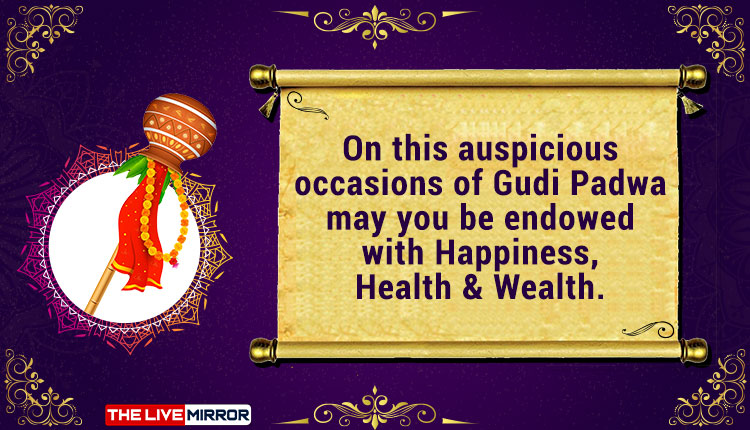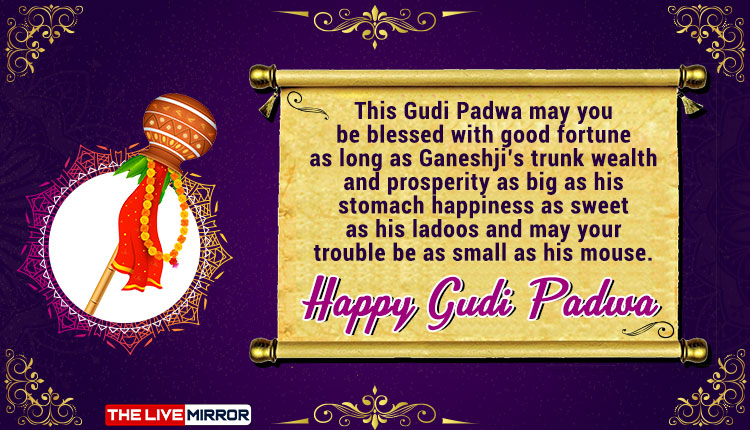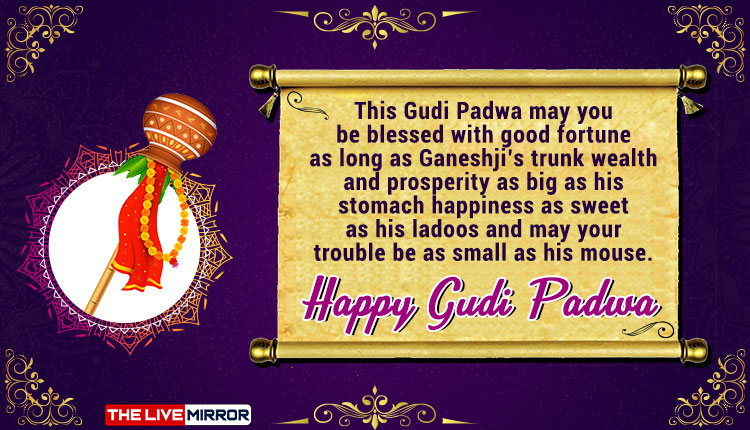 HD Gudi Padwa (Ugadi) Images in Marathi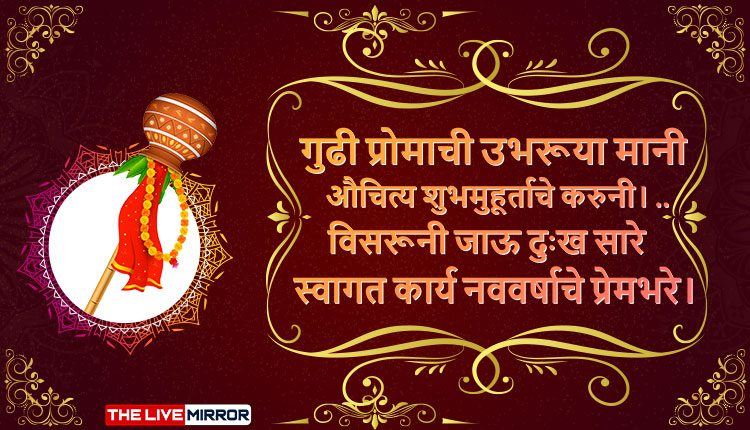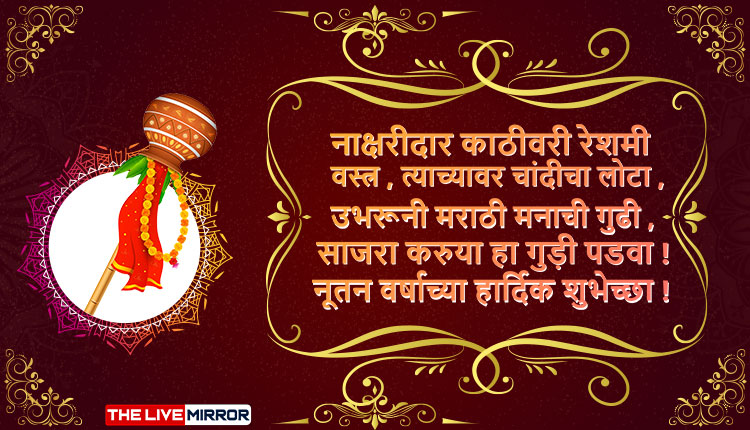 Gudi Padwa (Ugadi) 2019 GIF Images
Making Gudi Padwa 2019 more memorable, share these Gudi Padwa advance greetings 2019 with family members, friends and wish them a healthy and prosperous Marathi New Year.
We Wish You A Very Happy Gudi Padwa To All….