Talks with Pakistan only on Pakistan occupied Kashmir: Rajnath Singh
Defence Minister Rajnath Singh trains guns on Pakistan amid Kashmir row.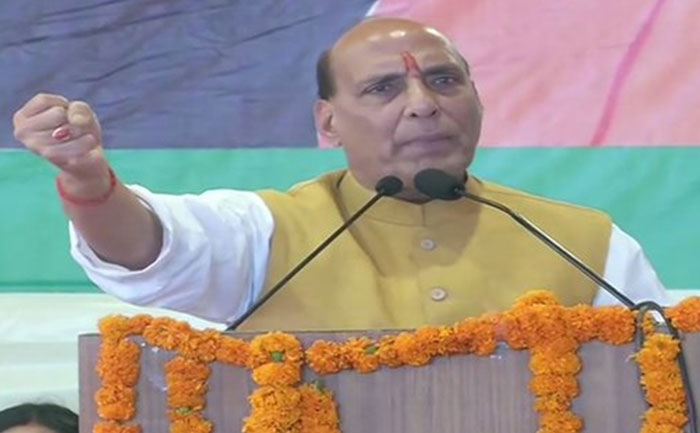 Union Defence Minister Rajnath Singh recently said that talks with Pakistan will now take place in POK(Pakistan occupied Kashmir). The minister was addressing a public rally at Kalka in Haryana. He addressed the rally after flagging off of the Bharatiya Janata Party's 'Jan Ashirwad Yatra' here, some 20 kms from Chandigarh.
He also spoke about the abrogation of Article 370 that accorded a special status to Jammu and Kashmir and added that it was done for the development of the state.
Rajnath Singh also mocked Pakistan for running pillar to post ever since the Prime Minister Narendra Modi-led NDA government announced abrogation of Article 370 and bifurcation of Jammu and Kashmir.
Mocking Pakistan, he said, "We removed Article 370 and the neighbour is getting weak. They are running across the world and even threatening us intermittently. When the country went to Trump, even he chased them away. Our neighbour is knocking on the doors of the international community saying India made a mistake. Talks with Pakistan will be held only if it stops supporting terror."
He not only hit out at the neighbouring nation but also at the opposition.
The Defence Minister's attack on Pakistan comes just days after he suggested that India's nuclear weapon policy of 'no first use' might change depending upon "future circumstances".
Notably, Pakistan has approached several countries as well as the United Nations Security Council (UNSC) against India's move to end special status for Jammu and Kashmir. However, the neighbouring country was snubbed from everywhere as global powers acknowledged that New Delhi's move was in accordance with the Indian Constitution.
Also Read: Rajnath Singh lays foundation stone of 576 projects worth Rs 161 crore in Uttar Pradesh