Rajasthan Political Crisis: Sachin Pilot reaches Delhi; CM Ashok Gehlot calls emergency meet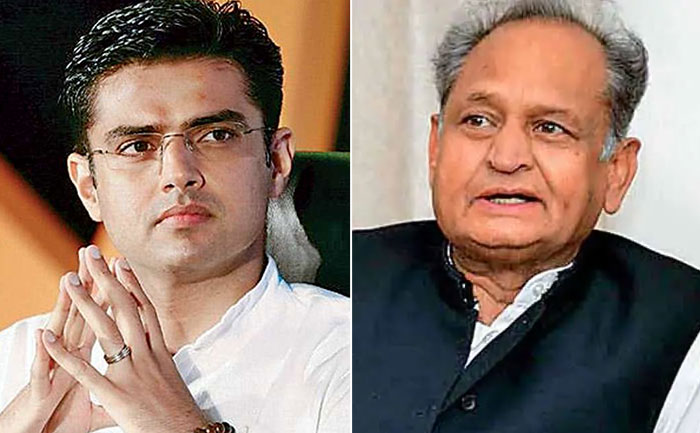 The Congress government in Rajasthan is going through a crisis. The reason being the rift between Chief Minister Ashok Gehlot and Deputy Chief Minister Sachin Pilot. Deputy Chief Minister feels that he is being sidelined by Gehlot. The tussle between Ashok Gehlot and Sachin Pilot began before the Congress came to power in Rajasthan. The feud came to the fore during candidate selection. The High Command's decision to make Gehlot Chief Minister added fuel to the fire.
Rajasthan Deputy Chief Minister Sachin Pilot is presently in Delhi with some of his loyalist MLAs. Pilot and the 25 MLAs are camping at a hotel in Gurugram. Reportedly Pilot is likely to meet Congress interim President Sonia Gandhi. Both Sonia and Rahul Gandhi have been briefed about the situation.
Reportedly Pilot has been affronted when the special operations group (SOG) of the state police's anti-terror squad posted a notice at his residence to appear for questioning. The questioning is to take place in connection with the allegations of BJP's attempts to topple the Congress government in the state. That Mr. Gehlot is in charge of the Special Operations Group added to the injury. Mr Gehlot receiving a similar summon was viewed as a cover by sources close to Pilot.
Earlier on Saturday, Chief Minister Ashok Gehlot had accused the opposition BJP of trying to topple his government by luring the ruling party MLAs with a huge amount of money. But his allegations were dismissed by the BJP. They said that the political situation in the state was the result of infighting in Congress.
Rajasthan Chief Minister Ashok Gehlot has summoned an emergency meeting tonight of Congress MLAs, independents supporting his government.  This meet is apparently to counter Sachin Pilots move.
Just In: In Delhi Rajasthan Deputy CM and Congress leader Sachin Pilot was seen meeting BJP leader Jyotiraditya Scindia who earlier joined the party after quitting Congress.
Also Read: Rajasthan: Ashok Gehlot takes oath as CM, Sachin Pilot his deputy