Samsung launches its first-ever Galaxy Chromebook at CES 2020
The Galaxy Chromebook is priced at $999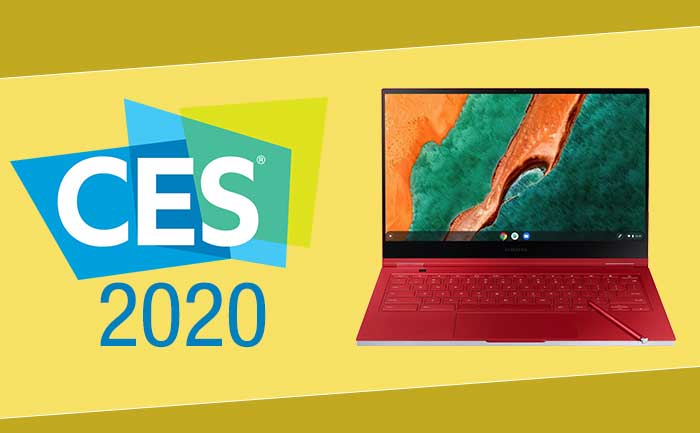 The CES 2020 is underway and Samsung is the latest in line with its product release. Samsung has a long history of making big announcements and releases at the CES 2020. This year's CES 2020 was no different as Samsung unveiled the new Galaxy Chromebook. The Galaxy Chromebook has been heralded as the device that will climb up the ranks of prime Chrome OS devices. The Galaxy Chromebook has a price tag of $999.
According to Samsung, this is the sleekest Chromebook released to date. The dimensions for the device are 302.6 x 203.2 x 9.9 mm and the Galaxy Chromebook weighs 1.04 kg with an aluminum casing. In addition, Samsung also revealed at the CES 2020 that the device will sport a 13.3-inch 4K AMOLED touch screen display with a resolution of 3840 x 2160 pixels.
Samsung also shared that the "Galaxy Chromebook will soon come with HDR400 that delivers high-contrast graphics, along with Ambient EQ capabilities, so you get a viewing experience that's vivid and easy on the eyes, so that you never walk away from your computer feeling strained."
With an Intel generation 10 Core processor and UHD Graphics, the Samsung Galaxy Chromebook is one of the more impressive CES 2020 reveals. The device will have 16 GB LPDDR3 memory and up to 1 TB SSD storage. It will also support Wi-Fi 6, 2W stereo speakers, two USB-C ports complete with a UFS-MicroSD combo. Charged with a 49.2 Wh battery, the Galaxy Chromebook also has fingerprint authentication for security.
Users will have two color options to choose from in Fiesta Red and Mercury Gray. According to Samsung, the Samsung Galaxy Chromebook will be available somewhere in Q1 of 2020.
ALSO READ: CES 2020: Xenoma Launches Smart Pajamas For The Elderly