Shaheed Diwas: Nation pays tribute to Bhagat Singh, Sukhdev and Rajguru on their 88th martyrdom
Shaheed Diwas: Remembering Bhagat Singh, Sukhdev and Rajguru on their 88th martyrdom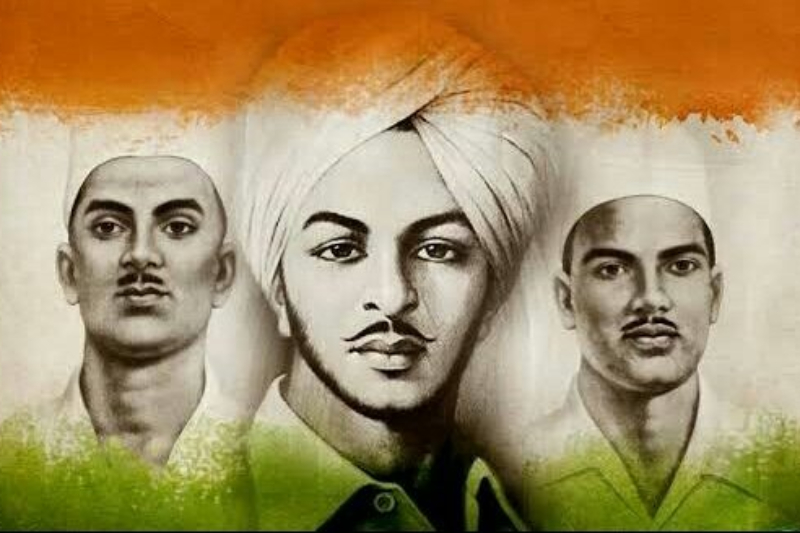 India has proudly owned its 'Freedom' due to each and every freedom fighter who selflessly dedicated their lives to it. Freedom fighters' list is uncountable but these three pillars can never be forgotten: Shaheed Bhagat Singh, Sukhdev and Rajguru. These three names bring enthusiasm amongst us. Today is the 88th martyrdom day of these three Bravehearts and nation pays rich tribute to them.
It is to be noted that today is a glorious day which can never be forgotten by any Indian. Today is a day when three brave hearts of India were sentenced to death at Lahore in 1931. 'Bhagat Singh', a name that does not calls for explanation, as the deeds of Bhagat Singh were greater than his name. Bhagat Singh along with Rajguru and Sukhdev are counted in those Bravehearts who made the phrase come true: "Live young, Die Young". Bhagat Singh amongst all the revolutionaries of his time was the most influential one. He is still remembered by the Britishers for the lesson which he taught to J.P. Saunder.
"Zindagi Apne Dum Par Ji Jaati Hai, Dusro Ke Kandhon Par To Sirf Janaje Uthate Hai" are the words of Shaheed Bhagat Singh.
Shaheed Bhagat Singh, Sukhdev and Rajguru: In India's independence, there are three such heroes, whose martyrdom has led to unprecedented awakening for independence among the youth of the country.
The patriot Sukhdev, Bhagat Singh and Rajguru got the hanging on March 23 in Lahore conspiracy case by the British Government. However, by punishing these brave soldiers, the British government believed that the people of India would be scared and not forget the spirit of independence. But in reality, the colour of giving freedom to the people of India increased in such a way that thousands of patriots tied the shroud on the head and waged patriotic war against the British.
The valiant sacrifice of Sukhdev, Rajguru and Bhagat Singh, ignited the flame of independence among the people in history. In the heart of the nation, we offer tribute to these immortal Bravehearts of the country, who reach the echo of Inqlab, on their martyrdom.
This is the death warrant of Shaheed Bhagat Singh:
Death Warrant of Bhagat Singh pic.twitter.com/yASKSsRTOP

— indianhistorypics (@IndiaHistorypic) March 22, 2018
Social networking sites are flooded with messages of patriotism and 'Shaheed Diwas', 'Bhagat Singh' and 'Sukhdev' emerged as top trends on Twitter. Take a look:
#SaturdayMotivation
Bhagat Singh Chowk in Lahore where #BhagatSingh, #Rajguru & #Sukhdev were hanged on 23rd March 1931.
Tributes to the revolutionaries on their martyrdom day for their ultimate sacrifice for India.Long live the revolution 🇮🇳#ShaheedDiwas pic.twitter.com/NLG12tRHYx

— Chowkidar Geetika Swami (@SwamiGeetika) March 23, 2019
#ShaheedDiwas Salute to our Heroes #Sukhadev #BhagatSingh #Rajguru pic.twitter.com/SqMX1jYeMV

— sahyadri mountaineering organization (@SahyadriJunnar) March 23, 2019
#saheedDiwas #BhagatSingh #Sukhdev #Rajguru #inqlabjindabad You can crush individual but you cannot crush ideas- 👑BhagatSingh👑 to British🙂 23rd March 1931, Lahore (British India). pic.twitter.com/KnU86cgXKy

— N.S Kumar Thakur (@nilabh_shivam) March 23, 2019
I pay my Tribute to #BhagatSingh, #Rajguru and #Sukhdev who were sentenced to death in the #LahoreConspiracyCase and ordered to be hanged on 24 March 1931. The schedule was moved forward by 11 hours and the three were hanged on 23 March 1931 at 7:30 pm in the #Lahore jail. pic.twitter.com/YzZdefnFvk

— Pankaj Maurya (@pankaj_m_2606) March 23, 2019
Exactly 88 years ago #OnThisDay three young freedom fighters split their blood to save ours ! The sacrifices will always be remembered. Salute to Shaheed #BhagatSingh, #Rajguru & #Sukhdev on the day of their martyrdom. #ShaheedDivas #शहीददिवस pic.twitter.com/R2IO5TaPNK

— Nileshkumar Kulkarni (@NileshkumarMK) March 23, 2019
"I will climb the gallows gladly and show to the world as to how bravely the revolutionaries can sacrifice,me
themselves for the cause"
–#Saheed #bhagatsingh #23rdMarch is Martyrdom day,We pay our Deepest Tribute and Revolutionary Salute in memory of Rajguru,sukhdev #bhagatsingh pic.twitter.com/T8PGBRW8HZ

— आकृति भार्गव (@Aakriti_Bhargav) March 23, 2019
जो चीज़ आज़ाद विचारों को सहन नही कर सकती, उस चीज़ को खत्म हो जाना चाहिए ।#BhagatSingh

— Dr.Virender Sindhu (@Virendersindhu) March 23, 2019
Tributes to great Indian freedom fighters #BhagatSingh, #Rajguru & #Sukhdev on their Martyrdom Day today.

It was #OnThisDay in 1931 that Bhagat Singh, Sukhdev & Rajguru were executed after they were sentenced to death in the #Lahore conspiracy case. pic.twitter.com/dR8CjD7gEw

— Chowkidar Raghuveer Jaybhaye (@raghunathJaybh2) March 23, 2019
Also Read: Shaheed Udham Singh: Lesser Known Facts Of A Man Who Single-Handedly Avenged Jallianwala Bagh Massacre