Shay Mitchell shuts down troll for commenting on her breastfeeding photo
'Pretty Little Liars' fame Shay Mitchell shuts down a troll who shamed her for sharing a photo of herself breastfeeding daughter Atlas Noa.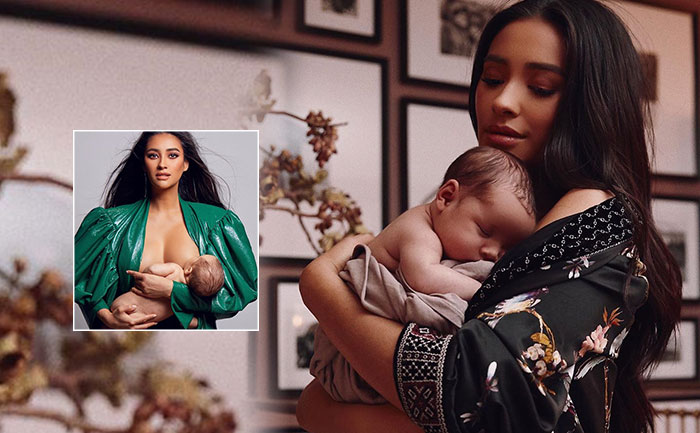 Pretty Little Liars fame Shay Mitchell recently gave birth to her first daughter on October 20, with long-time boyfriend Matte Babel and the couple named their little baby girl Atlas Noa. Since then the mother-daughter duo has been traveling together and Shay has been sharing their journey on Instagram.
Recently, the actress posted a stunning photo of herself breastfeeding her little girl. She captioned the photo, "Breast friends." 
Have a look at the photo:
While her famous friends like Vanessa Hudgens wrote: "I mean come onnnnn?," as well as mother-to-be Ashley Graham commented, "Mommy Goals!" new momma Hilary Duff also wrote, "That exactly what I looked liiiike !!! ?"
The actress also received some critical comments. An Instagram user wrote, "I'm a fan of her, but this picture just says but it's an attention getter. She's not even looking at the baby, she's not connected with the baby she's connected with camera."
To which Shay, immediately replied, "I missed the part in the baby books that stated I had to maintain eye contact with my daughter while she feeds rather than capturing an amazing moment we were having. Pls let me know where I can download your parenting manual, I'll get right on it!"
Check it out:
Talking to People about her motherhood experience, she said, "I have such an amazing support system. I'm having such a great time with her [daughter Atlas Noa] and I just don't really pay attention to [critical comments]"
The actor added, "I've really had a good experience, from even before being a mom, dealing with negative comments sometimes and other people. But it's never about me at the end of the day, it's about these other people, so I'm just gonna let them say what they wanna say but it doesn't really affect me."
On the work front, Shay Mitchelle recently starred as Peach Salinger in Netflix thriller YOU.
ALSO READ: Justin Bieber's 2020 Album Talks About 'Mental Health And Marriage Struggles'