Bigg Boss 13: Sidharth Shukla and Rashami Desai to reconcile again?
In the new promo, Rashami Desai's nephew and niece ask her to end her fight with Sidharth Shukla and hug it out; Watch.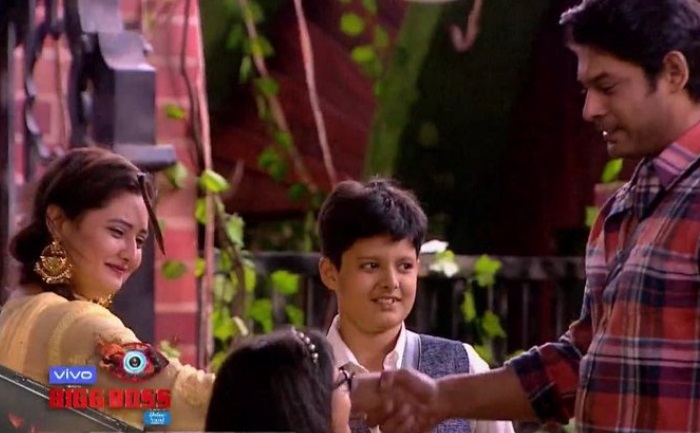 The 13th season of Bigg Boss continues to get interesting day by day and as we all know Sidharth Shukla and Rashami Desai are known for their rivalry in the show but, this time the duo will be seen hugging each other. Yes, you read that right.
As we all know, the family members of the housemates have been entering the house of Bigg Boss 13 to meet their cherished ones and as of now, Arti Singh, Mahira Sharma, Shehnaaz Gill, Shefali Jariwala and Asim Riaz's family members have already entered the house.
In the new promo video, Rashami's niece Bhavya and nephew Swastik will enter the house to pay a surprise visit to the actor. The two ask them why she broke her friendship with Sidharth and ask her to patch up. They later make them shake hands and hug each other. Sidharth retaliates and even gets along with the kids.
Ahead of the video, the Uttaran actress is seen getting emotional and Sidharth consols her. Not even that, he even offers water to her. It seems like Rashami and Sidharth's rivalry is finally going to end during the family week.
Watching the video the #SidRa fans are thrilled with their new bonding and they took to Twitter to express the excitement towards the bond.
Check out the tweets: 
When literally' everyone's family member advised them how to play, Rash's nephew n niece were making #SidRa friends. this was so cute . away from all sort of game plans. purest interaction i've seen ..
Jo koi nai kar saka inn bachhone kar diya.#YouAreNotAloneRashami pic.twitter.com/qOeemu0D23

— Zeeshan Shaikh (@Zeeshan91542558) January 17, 2020
Rash – usse aate hi tera nasm liya.. She said Sidharth uncle ????????
Sid – bhot cute hai wo, smart girl
Rash – yeah thank you ?❤ #SidRa bg Music from kuch kuch hota hai ?❤ pic.twitter.com/q0yrMrqhys

— Binti ♡ SidRa (@arohi_bintii) January 17, 2020
I know Rashami love both child but i feel she loves her much ????& sid knowns her very well & he closed to her family ❤ Their love for bhavya cutie pie is another level.. Seems #SidRa like baby girl? okay it will be little Rashami ?? ? pic.twitter.com/PAQwuDOySc

— Binti ♡ SidRa (@arohi_bintii) January 17, 2020
"Vo Marta bhi Rahe na to Main pani side pe rakh ke nikal lu" – Rashmi Desai
See the difference here?
Isn't it a enough reason to love him?
So So Proud to be a SidHeart.❤️#SidharthShukla
pic.twitter.com/FWtizLqvN9

— No_nonsense (@No_nonsense_ok) January 16, 2020
Do you think #SidRa will solve all the disagreements and become friends again? Let us know your thoughts in the comments section down below.
ALSO READ: Bigg Boss 13: Himanshi Khurana To Enter The House Once Again?