Sui Dhaaga movie review: Varun Dhavan delivers an exhilarating performance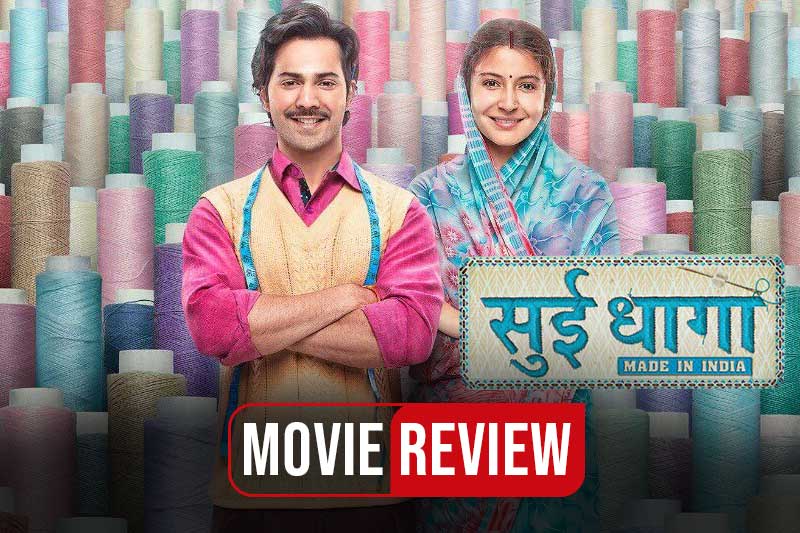 The trailer of Sui-Dhaaga: Made in India starring Varun Dhawan and Anushka Sharma had garnered a lot of appreciation from the audiences. 'Sab badhiya hai' is the mantra which Varun Dhawan aka Mauji lives by. Be it the demands of his father, or his stagnant relationship with his wife, Mamta, or his cantankerous boss.
Varun still smiles when he is asked to perform as a pet dog at the wedding of his employer's son for the benfit of the guests. Mamta is pained seeing this and Mauji's pride is pricked after seeing her. Not just that, his mother needs to undergo an angioplasty, and Mauji's family worries about how they're going to get together the money for her treatment.
As they say, Behind every successful man, there is a woman. Mamta makes Mauji realise how he's worth more than the life he's living. Mauji quits his job and tries to start something of his own.
The couple faces obstacles and the film is about how they overcome evrything in order to live life on their terms.
During all this, there is a very subtle chemistry to their depiction. Varun Dhawan infuses his Mauji with so much simplicity and sweetness, watching him on screen is a pleasure. After the interval, you're already rooting him to succeed in his endeavour.
With such a plot, it's not the humour is missing. In an instance, Mauji's mother complains that the number of pills she's taking is more than the quantity of dal she has with her meals; when doctors say that Mauji's mother is losing blood in the operation theatre, a friend asks in all seriousness if he should bring along some "anaar ka juice".
As the film ends, you'll feel as much of a victory as Mamta and Mauji. The film is directed by Sharat Katariya and produced by Maneesh Sharma. This is the first time when Anushka Sharma and Varun Dhawan and coming together on-screen.
View this post on Instagram
Ace cricketer Virat Kohli and Anushka Sharma's husband watched the film and was full of praises for Mamta and Mauji.
Saw @SuiDhaagaFilm for the second time last night and I loved it more than the first time. What an emotional rollercoaster with brilliant performances by the entire cast. (1) #SuiDhaagaMadeInIndia

— Virat Kohli (@imVkohli) September 28, 2018
(2) Mauji was superb @Varun_dvn. But Mamta's character stole my heart totally. Her ability to be so quiet yet so powerful and impactful makes you fall in love with her. SO PROUD my love ❤? @AnushkaSharma . Don't miss it guys! #SuiDhaagaMadeInIndia

— Virat Kohli (@imVkohli) September 28, 2018

Neha Dhupia loved the film and she tweeted. She wrote, "I loved Mamta @AnushkaSharmaFC I loved loved Mauji @Varun_dvn and the entire family of #SuiDhaaga … @Sharatkatariya what a beautiful film you have made. Every performance every beat is on point. And that background score is beautiful! @Shanoozeing Wat brilliant casting!"
I loved Mamta @AnushkaSharmaFC I loved loved Mauji @Varun_dvn and the entire family of #SuiDhaaga … @Sharatkatariya what a beautiful film you have made. Every performance every beat is on point. And that background score is beautiful! @Shanoozeing Wat brilliant casting! ❤️

— Neha Dhupia (@NehaDhupia) September 28, 2018
Also read: Sui Dhaaga – Made in India trailer: Heartwarming story of pride and self reliance