Surya Grahan June 2021: How Solar Eclipse Will Affect Your Zodiac Sign
Solar Eclipse 2021: How Surya Grahan will affect on your horoscope:; check out the solutions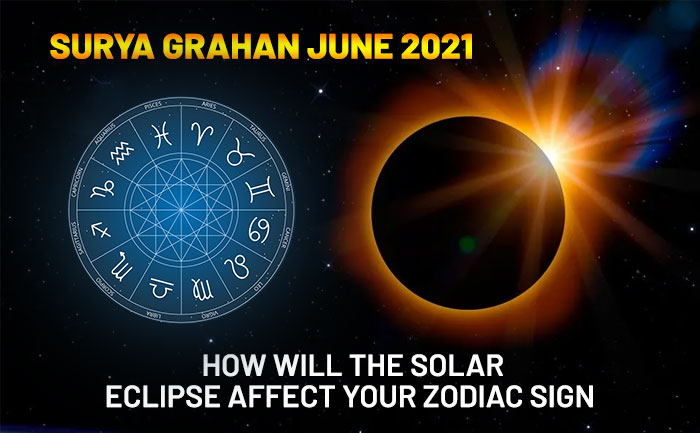 Surya Grahan or the annular solar eclipse of 2021 is set to take place on June 10. It is the first solar eclipse of 2021. The eclipse will begin from 11:42 am Indian Standard Time while the annular eclipse will appear to occur from 3:30 pm and will continue up to 4:52 pm. The partial eclipse will end at around 6:41 pm IST. The annular solar eclipse will be visible in North Asia, Europe, North-East, America, North Atlantic sea. But it will not be visible in India except in some parts of Arunachal Pradesh and Ladakh for a few minutes before the sunset.
Read on to know how Surya Grahan June 2021 will affect your Zodiac Signs:
Aries: You might face some financial loss so be careful in money matters. Try to have a positive outlook and do not speak harshly to anyone. Perform Surya Namaskar and donate jaggery. Lucky Colour for you is Blue
Taurus: The Taurus people may face health-related issues. They may soon go on an overseas journey. They should worship Lord Shiva and read Hanuman Chalisa. Lucky colour for you is Pink.
Gemini: You will have a positive approach towards life and can even expect good news. The Gemini people would think of a safe plan for a family outing. Your lucky colour is Red and you should read the Vishnu Sahasranam.
Cancer: The Cancer people who are in business would be able to establish themselves in a firm manner. Be extra cautious in business or while acquiring property. Your lucky colour is Yellow. Read the Siddha Kunjika Stotra 18 times.
Leo: Leo people will face issues in finding their soulmates after Surya Grahan. Handle your relationships with care. Do not take any financial decisions in haste. Your lucky colour is White and donate Jaggery.
Virgo: They will have a mixed impact post-Surya Grahan. This is a favourable time for the job, business, and long-term investment for them. They should start doing regular exercise or yoga. Read Hanuman Chalisa. Lucky colour for them is Red.
Libra: The Libra people should be careful in their approach with an elder family member. Try not to get caught in people's opinions about you. You may face problems in your job and business, so donate food. Lucky colour for Libra is Purple.
Scorpio: Scorpio people will have a lot of mental stress and anxiety. Switch to some physical activity to overcome stress, depression, and anxiety. Be cautious before signing any important document. Lucky colour for you is Silver. Donate wheat and read Bajrang Baan as protection.
Sagittarius: They can expect a promotion thanks to their hard work. Luck will be on their side. But expenses may increase. Read the Sunderkand and donate food to the needy. Lucky colour for you is White.
Capricorn: Capricorn people should try a home remedy for any ailment. Choose your words wisely. Income may get delayed, and expenses may increase. So donate Udad dal. You should read the Durga Saptashati. Your lucky colour is Black.
Aquarius: The Aquarius people have an excellent opportunity to go for an outing with family. Their willpower will keep them moving ahead. To overcome obstacles in your life worship Lord Shiva. Your lucky colour is Pink.
Pisces: Pisces should ignore negativity. They will feel frustrated by a close friend or a family member. Pisces should avoid pointless arguments. Your lucky colour is Red. You should donate spiritual books.
Also Read: Daily Horoscope 10th June 2021: Check Astrological Prediction For All Zodiac Sign