Sushma Swaraj addresses Indian diaspora in Durban, recalls Mandela and Gandhi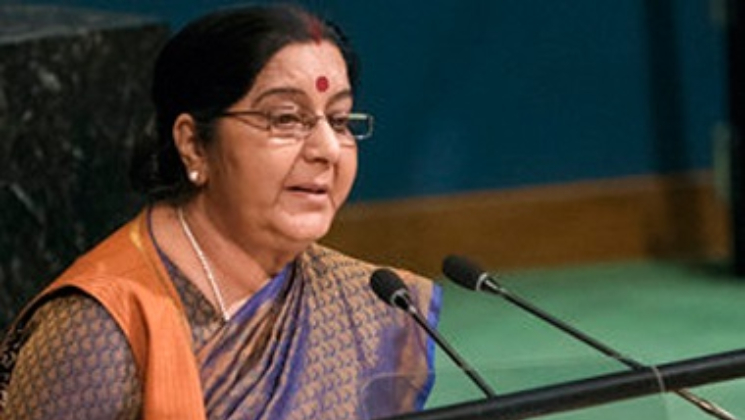 External Affairs Minister Sushma Swaraj is on a five-day visit, during which she will attend meetings of BRICS (Brazil, Russia, India, China and South Africa) and IBSA (India, Brazil, South Africa) — the two major groupings where India has been playing a key role.
During the visit, Swaraj will be participating in the BRICS (Brazil, Russia, India, China and South Africa) Foreign Ministers' meeting today which is expected to lay the foundation for the annual summit of the grouping in Johannesburg next month.
Her Excellency, Madam Ruchira Kamboj the current Indian High Commissioner to South Africa tweeted,
A very warm welcome to Minister @SushmaSwaraj, here in South Africa, for #BRICS & the Pietermaritzburg commemoration.

#IndiaSA #Satyagraha125 #Bapu150 pic.twitter.com/oRnqnY9JHC

— Ruchira Kamboj (@RuchiraKamboj) June 3, 2018
Sushma Swaraj has discussed with South African President Cyril Ramaphosa enhanced engagement between the two countries and greater cooperation in areas of skill development, agriculture and information technology.
Swaraj met Ramaphosa who while recalling his meeting with Prime Minister Narendra Modi at the Commonwealth Summit in London and conveyed his commitment to take the bilateral relations to the next level, according to a statement by the Ministry of External Affairs.
Swaraj has addressed the Indian diaspora in Pietermaritzburg during her last leg of South Africa's visit while stressing on the relationship between India and South Africa.
While recalling Mahatma Gandhi and Nelson Mandela, Swaraj said, "They gave hope to generations to come, by ensuring that our values and principles, which we hold sacred, are forever enshrined in our psyche and in our Constitutions," Swaraj said
She also said that India is neither imperialist nor expansionist, adding that "India does not need even an inch of land or a drop of water from anyone."
While talking about protectionism during her visit to the Ramakrishna Center of Phoenix in Durban, she said, "I am superiors and everything is for me" which as per her contradicts with the Indian tradition."
Amongst those who lived with the message of Mahatma for centuries! EAM @SushmaSwaraj interacted with Swami Saradaprabhananda, President, Ramakrishna Centre of South Africa (Phoenix) and Indian Diaspora and emphasized on importance of following Bapu's value. pic.twitter.com/PwYQSczOWS

— Raveesh Kumar (@MEAIndia) June 6, 2018
Swaraj expressed her gratitude for opening the Ramakrishna Mission centre which as per her "will not help to serve the cause of Ramakrishna but also of the entire humanity."
Swaraj then highlighted the significance of Ramakrishna in the modern lives.
Mahatma Gandhi was thrown out of a train compartment in Pietermaritzburg railway station. The 1893 incident proved to be a turning point in Gandhi's fight against racial discrimination in South Africa.
BRICS is a grouping of five countries-Brazil, Russia, India, China and South Africa and IBSA is a tripartite grouping of India, Brazil, and South Africa.