THIS heart-touching video of Sushma Swaraj will leave you teary eyed, Watch
Video of Sushma Swaraj condoling Hamid Ansari has gone viral on the internet, Watch the video here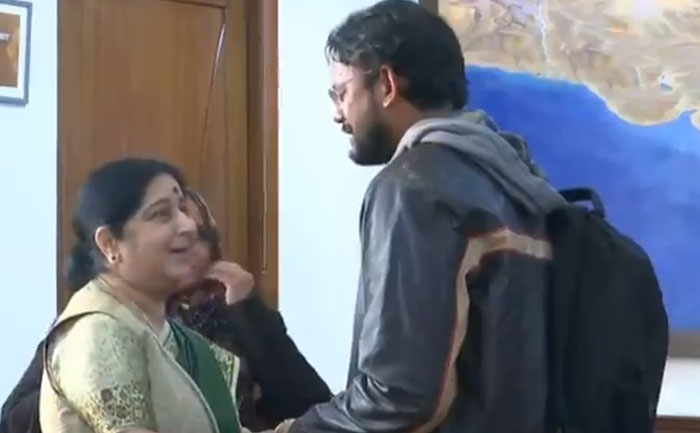 The entire country is mourning over the untimely demise of Ex-foreign minister and Senior BJP leader Sushma Swaraj, who passed away on yesterday night. The senior Politician had always been in the news when she was the foreign minister for extending her helping hands to Indian Nationals stuck in other countries.
Soon after Sushma Swaraj's death news broke, a heartwarming video of her condoling an Indian National Hamid Ansari has gone viral on the internet.
In the viral video, Sushma Swaraj can be seen condoling Hamid Ansari, who returned to Indian after spending so many days in Pakistan's jail. The video was shot in December 2018, when Hamid was released and went to meet Sushma Swaraj in New Delhi. 
In the video, Sushma Swaraj can be heard seen 'Nahi Bachche, Koi Baat Nahi' when Hamid appreciates her efforts and thanks to her for bringing him back to India. Hamid's mother can also be seen thanking Sushma from the bottom of her heart and said, "Mera Bharat mahaan, meri madam mahaan, sab madam ne hi kiya hai."
This heart-touching video will leave give you a goosebump:
#WATCH Indian National Hamid Ansari who came to India after being released from a Pakistan jail yesterday, meets External Affairs Minister Sushma Swaraj in Delhi. His mother tells EAM "Mera Bharat mahaan, meri madam mahaan, sab madam ne hi kiya hai." pic.twitter.com/FQEzz99Ohm

— ANI (@ANI) December 19, 2018
The video is being widely circulated on the internet. Unfortunately, the courageous and honest politician Sushma Swaraj left for heavenly abode. Her mortal remains will be kept at BJP headquarter till 3 pm today after which she will be created with full state honours.
Also Read: Former Foreign Minister Sushma Swaraj To Be Cremated With Full State Honours