Taylor Swift wins Icon Award at 2019 Teen Choice Awards
Taylor Swift Accepts First-Ever Icon Award at 2019 Teen Choice Awards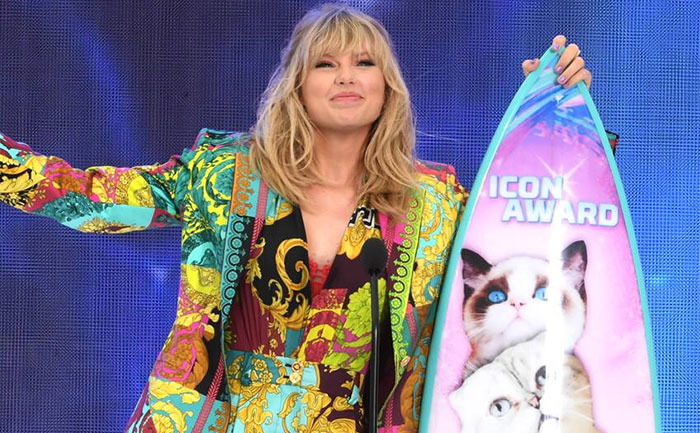 Taylor Swift accepts her surfboard on stage at the 2019  "Teen Choice Awards" on August 11 in Hermosa Beach, Calif. The 29-year-old singer was presented with the first-ever Icon Award. The Icon Award was a new addition to the annual awards this year and Taylor was given the honour of being its first-ever recipient. She was presented the award by US women's footballer Alex Morgan.
Taylor Swift gave an inspiring speech as she accepted the award. She addressed her teenage self and urged all other teens out there not to be so hard on themselves when they make a mistake.
Taylor said, "I think one thing I wish I would have known when I was a teen is mistakes are inevitable. 'Sometimes you think if you try hard enough to make every decision perfectly, you think you can possibly ace life and never make mistakes. But it's normal to make mistakes."
A living legend is among us. ? The biggest congrats to @taylorswift13 for her #TeenChoice Icon Award! pic.twitter.com/HOeQdGFRqM

— Teen Choice Awards (@TeenChoiceFOX) August 12, 2019
Swift ended the speech with a bang as she shared some big news about her upcoming album which drops on August 23.
She said: "I just wanted to tell you there's so much I'm excited about in the next 12 days until my album 'Lover' comes out. The album comes out on August 23, but I wanted to tell you tonight that on the 16th, on Friday, I have a new song called 'Lover' coming out, and I'm so excited. I love you more than words can say."
The 29-year-old will take the stage and perform at the 2019 MTV Video Music Awards later this month in New York City.
ALSO READ: Taylor Swift Releases Her Latest Music Video Tilted, Me! – Watch Video