Thala Ajith and Wife Shalini Spotted at Hospital with Masks; Fans Worried
Thala Ajith and wife Shalini spotted with mask in hospital amid coronavirus pandemic, fans concerned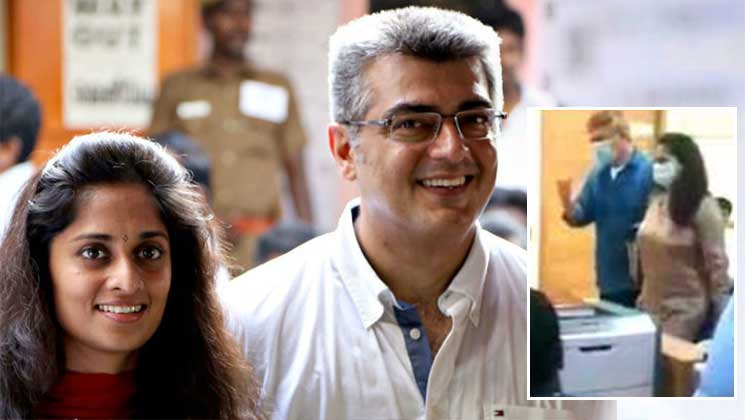 Kollywood superstar Thala Ajith and his wife Shalini were spotted visiting a hospital wearing masks. The video of the couple at a private hospital in Chennai amid the COVID-19 Pandemic has gone viral on social media. Their visit to the hospital has made fans curious and left them worried about their health.
• Here Is The Exclusive Latest Video Of Our #Valimai Star Thala AJITH With Shalini Mam 💥✌️

For More Updates, Stay Tuned To @ValimaiFilmPage ! pic.twitter.com/evaYCxeBBB

— #Valimai (@ValimaiFilmPage) May 22, 2020
In the viral video Ajith is seen in a blue shirt accompanying his wife to the hospital. Many fans took to social media to register their concern at the time when the whole world is reeling under the threat of coronavirus infection.
Rumours abound that Ajith and Shalini visited the hospital for a regular check-up. But some rumours suggest that Thala's father hasn't been keeping well for a few weeks. Maybe that is the reason the couple was seen at the hospital. But there has been no confirmation of the same as yet.
On the work front, Ajith's last two films 'Viswasam' and 'Ner Konda Paaravai' went on to mint at the box-office. The actor will next be seen in H.Vinoth'Valimai', The movie is being bankrolled by Boney Kapoor, husband of late actress Sridevi. Bollywood star Huma Qureshi has been roped in to play the leading lady of the film.
Ajith has donated Rs 1.25 crore to the state government, central government, and to FEFSI for Covid-19 relief. He also deposited Rs 2.5 lakh into the bank account of Film Journalists' Association to help them combat the lockdown.
Also Read: Happy Birthday Special: Unknown facts about 'Thala' Ajith Kumar