Tim Cook Turns To Tim Apple On Twitter After Trumps Misspells His Name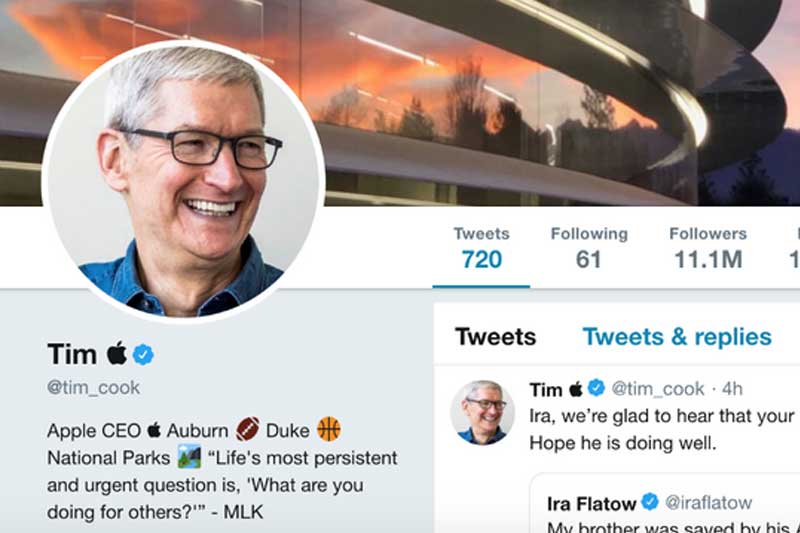 Recently while addressing American Workforce Policy Advisory Board Donald Trump incorrectly called Apple CEO Tim Cook as Tim Apple, which caught quite a high traction on Twitter. Thousands of people reacted casually on Presidents feat.
Trump just called Apple CEO Tim Cook "Tim Apple" pic.twitter.com/gTHHtjWvc9

— Sean O'Kane (@sokane1) March 6, 2019
Tim Cook came out with a hysterical yet perpetual response by changing this Twitter name from Tim Cook to Tim Apple. He also replaced his last name with an Apple Logo, Apple Vice President Lisa P. Jackson, retweeted notifying about the change of name.
Calling Tim Cook Tim Apple to his face is my version of the American dream. I want to look Bill Gates in the eye and call him Jim Microsoft.

— Kaleb Horton (@kalebhorton) March 7, 2019
Getting the whole gang together:

Tim Apple
Jeff Amazon
Elon Tesla
Mark Facebook
Jack Twitter
Sundar Google
Larry Oracle
Mark Salesforce
Daruber
Satya Soft
Reed Flix

— timmy apple (@RMac18) March 6, 2019
Twitteratis came out with tons of humorous combinations where CEO's names were switched with their company name. It is also true for the first time in history a CEO is called by this company name by a person who is highly important in the history of America. Responding to the mistake, the CEO took it as a flagship.
Tim Cook was speaking on the importance of teaching coding to students at the event, and he also pointed out that half of the hiring in the past four years does not own a degree.