BB 13: After Sidharth Shukla's Win, Twitterati trend #BoycottColorsTV For Being Biased
Sidharth Shukla bags the Bigg Boss 13 trophy but it looks like netizens are not happy with it as they trend #BoycottColorstv on Twitter.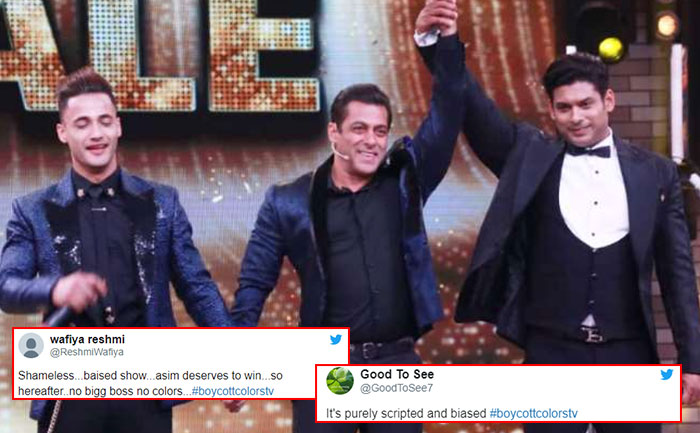 The controversial reality show 'Bigg Boss 13' has concluded as Salman Khan declared Sidharth Shukla as the winner on February 15, 2020. While Asim Riaz became the first-runner up and Shehnaaz Gill termed to be the second-runner up of the 13th season.
Shukla has been in the news ever since the season has begun. The 'Dil Se Dil Tak' actor's journey has been full of ups and downs. He beat Asim Riaz, who sure gave him a tough competition throughout. While several fans happy as the actor bagged the trophy, others seemed to be quite disappointed as they feel Shukla's triumph had been pre-planned by the channel.
The fans of the show seem totally upset and fumed with the makers of Colors TV and Bigg Boss 13 for being unfair toward Sidharth throughout the season and showing biasness toward the end by giving him the title of the winner and now, that he has won, Twitterati have trended several hashtags like #BoycottColorstv, FixedWinnerSidharth, #BiasedBiggBoss13 and #AsimDeservesTrophy.
Bigg Boss 13 Winner Out: Twitterati trend #BoycottColorsTv For Being Biased
#boycottcolorstv
Asim riaz is real winner of bb ❤
Suck colortv….@imrealasim @rkaushal18 @realumarriaz …@ColorsTV

— Rkaushal18 (@rkaushal18) February 16, 2020
First time in @BiggBoss history, a woman abuser, a mentally ill, an aggressive druggie, woman beater, violent animal won!

Disgrace to Indian reality Tv!

WORST WINNER EVER!#BiggBoss13Finale @EndemolShineIND @Sudhanshu_Vats @ColorsTV

— Kruti BB13 #AsimFan (@AsimFanGirll) February 15, 2020
Yes i did , unsubscribe chennal now . And not gonna recharg for colorsTV #boycottcolorstv @ColorsTV

— Rayes Ahmad (@RayesAhmad11) February 16, 2020
Well you play with our emotions. Now we play with you.☺️#MyWinnerAsim #boycottcolorstv pic.twitter.com/z8yH9poEyo

— Veer Gaurav (@VeerGaurav1) February 16, 2020
Uninstall @justvoot & Removed @ColorsTV from Pack. …no body in interested in FAKENAAZ ki shadee or another Scripted #KhatronKeKhiladi

Feel the heat

Guys go for it….#MyWinnerAsim #FixedWinnerSidharth #BiasedBiggBoss

— TEAM ASIM RIAZ MUMBAI🌟↙️ (@IamAsimRiaz01) February 16, 2020
Carryminati had said "Ye Biggboss haarne se nhi..jeetne se daro" #SidharthShukIa will never earn any kind of respect! He won't get any work. He will always be remembered as the #FixedWinnerSidharth of the most #BiasedBiggBoss ever! #MyWinnerAsim will shine bright like a star!

— §åmGïll 🌟#AsimRiaz 🌟 (@JDBtheROCKING6) February 15, 2020
Seriously I'm surprised mostly 90% Tv media went Interview from #AsimRiaz & Siddharth is lost 🤣 lol but he just got trophy bcoz of #ShameOnManishaSharma
This is defference real Winner & #BiasedBiggBoss Winner.#MyWinnerAsim
Shukla will be shocked by seeing Asim 🌟 power 2day.

— Asim Riaz Fan Club®️ (@YusriKhan99) February 15, 2020
Sidharth Shukla responded to the 'fixed winner' claims of Bigg Boss 13 and told The Indian Express, "What do you say on such things. I won the title after a gruelling journey and when someone questions that, it's really sad. I feel sorry for people who have such thoughts. If you have followed the season, you would know that it hasn't been an easy time for me. It's not that it doesn't matter, but you cannot keep answering every question thrown at you."
What are your views on Sidharth Shukla's win? Do you think it was biased?